More gloom ahead for UK economy – study
Persistent inflation is among the factors expected to damage growth prospects, according to a US think tank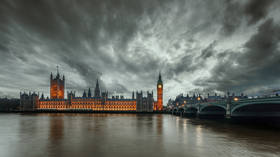 The British economy will shrink in both 2023 and 2024, The Guardian reported on Wednesday, citing a study by the Washington-based Peterson Institute for International Economics (PIIE).
According to the report, persistent inflation, falling real incomes of low-income households, and a shortage of workers will result in a 0.3% drop in the country's gross domestic product (GPD) this year, and a further 0.2% backslide next year.
"The UK won't be in recession all of next year, but the recovery will be held back by higher-than-expected inflation and in response, the Bank of England will need to keep interest rates higher for longer," PIIE president Adam Posen told The Guardian, commenting on the report.
Posen, who used to work on the Bank of England's monetary policy committee, noted that the UK economy is also still weighed down by the aftereffects of Brexit and will likely suffer from planned cuts to government spending next year.
Last week, the central bank refrained from hiking interest rates for the first time in nearly two years after a surprise drop in inflation in August to 6.7% amid weaker growth in food prices and a reduction in accommodation and air travel costs. However, UK inflation remains the highest among G7 economies.
Posen warned that more rate hikes are possible in the coming months if inflation doesn't slow further. Karen Dynan, a co-author of the report, mirrored the institute's warning and said it does not apply to the UK alone.
"While inflation appears to be receding in most countries, it remains decidedly above central bank targets. As a result, most central banks will need to keep their policy rates high over the coming year, with the resulting tight financial conditions holding back demand and slowing economic activity," she stated.
For more stories on economy & finance visit RT's business section
You can share this story on social media: