US 'failing' at life expectancy – WaPo
Chronic diseases kill more middle-aged Americans than opioids or guns, research has shown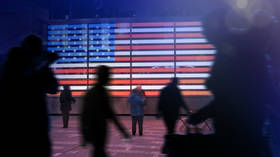 The US is dead last among "peer countries" in terms of life expectancy for its population, the Washington Post reported on Tuesday. Months of research and interviews have revealed a widespread problem with obesity, cancer, heart conditions, and diabetes, as well as a growing gap between poor and wealthy Americans.
"Among wealthy nations, the United States in recent decades went from the middle of the pack to being an outlier. And it continues to fall further and further behind," according to the Post.
American life expectancy peaked at 78.9 years in 2014, the same year the Affordable Care Act – also known as 'Obamacare' – fully went into effect. It has been declining ever since. According to the Centers for Disease Control and Prevention (CDC), as of 2021 it was at 76.4 years.
The Post reporters looked at county-level death records over the past five decades, finding the largest increase in excess deaths among the 35-64 demographic. In that group, chronic diseases kill twice as many Americans as "all the [drug] overdoses, homicides, suicides and car accidents combined."
Heart disease, cancer, diabetes, liver failure, and other chronic ailments are the main culprits. Cases of breast, thyroid and colorectal cancer are "mysteriously" rising among Americans under 50. Meanwhile, almost 42% of adult Americans are obese, compared to 11.6% in 1990.
Medical professionals and scholars interviewed by the Post blamed a variety of factors, from lack of preventive care and focus on treatment, to racism. They said advances in medicine, nutrition, and technology have been "overwhelmed by poverty, racism, distrust of the medical system, fracturing of social networks and unhealthy diets built around highly processed food."
While the US medical system is great at treating diseases, "growing healthy people to begin with, we're the worst in the world," according to William Cooke, a doctor in Austin, Indiana.
Elena Marks, a senior health policy fellow at Rice University's Baker Institute for Public Policy, argued that the US has built a "health industrial complex" that costs trillions of dollars but focuses on treatment.
"Eighty-plus percent of health outcomes are determined by nonmedical factors," said Marks, who used to be the health and environmental policy director for the city of Houston in Texas.
There is a major "wealth gap" in life expectancy, according to the Post. In 2020, during the Covid-19 pandemic, the poorest Americans were 61% more likely to die than the richest ones, and had "far lower" life expectancy than poor people in comparable countries. While wealthy Americans enjoyed longer lives on average, they too lagged behind their counterparts in Canada, France, or Japan.
The Post also highlighted the racial disparities in life expectancy, with Native Americans coming in dead last at 65 and Asian-Americans leading at 84. Meanwhile, Hispanics were at 78, whites at 76, and African-Americans at 71.
You can share this story on social media: