EU fails to unblock €5 billion aid to Ukraine
The bloc has promised Kiev more money despite ongoing opposition from Budapest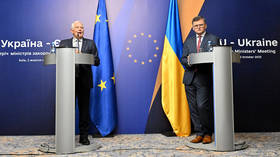 The EU will consider a €5 billion military aid package for Ukraine for 2024, the bloc's foreign policy chief Josep Borrell said in Kiev on Monday. Hungary's veto on the existing €500 million "European Peace Facility" fund has not yet been withdrawn, however.
"I have proposed a new multi-annual bilateral allocation of the European Peace Facility, up to five billion for next year," Borrell said at a joint press conference with the Ukrainian Foreign Minister Dmitry Kuleba. "I hope we can reach an agreement before the end of the year."
He did not mention the fate of the current EPF funds, which Hungary has been holding up since May. According to EuroNews, Borrell made no reference to Budapest's position, saying only that the EU support for Kiev would continue "in all dimensions."
Hungary's Peter Szijjarto was conspicuously absent as 26 other members of the bloc sent foreign ministers for a surprise meeting in Kiev, intended as a show of support for Ukraine in the conflict with Russia. A deputy represented Budapest, according to EuroNews.
"The EU remains united in its support for Ukraine," Borrell insisted at the press conference. "We remain united. I do not see any member state reneging in its commitment to support Ukraine with the tools we have."
When asked about the specifics of that support, Borrell said the EU would "do more of the same."
The EU has sent Ukraine more than €25 billion ($26.4 billion) in military aid since February 2022, while the total amount of military, financial, and humanitarian support has reached €85 billion ($89.8 billion), Borrell revealed on Sunday. He also vowed that the bloc would continue aiding Kiev no matter what happened in Washington. The US Congress on Saturday passed a resolution avoiding a government shutdown that did not include new funding for Ukraine.
"We cannot under any circumstances allow America's support for Ukraine to be interrupted," US President Joe Biden said on Sunday, urging both Democrats and Republicans to "get this done."
The Pentagon has about $1.6 billion left of the $25.9 billion Congress had allocated to aiding Ukraine, but is using the money to replenish US military stockpiles, two officials told Politico on Monday. An earlier "accounting error" has freed up another $5.4 billion worth of weapons and ammunition from the US arsenal, under a Presidential Drawdown authority.
You can share this story on social media: