Another EU country seizes Russian-registered car – Izvestia
The German government reportedly disclosed the case involving the Czech Republic case to a Bundestag MP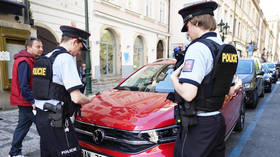 The Czech Republic has confiscated at least one car with Russian license plates under controversial EU rules, Moscow daily Izvestia reported on Monday, citing information from the German government.
Last month, the bloc instructed member states to look into Russian-registered private vehicles on their soil as they potentially violate sanctions against trade with Europe's largest country. Most member states bordering Russia have since banned entry altogether, with some even considering confiscating those already inside their borders.
The Czech Republic has reportedly impounded at least one vehicle with Russian license plates. The German federal government shared this information with an MP, who inquired into how his nation and other members of the EU have implemented the restrictions.
Izvestia said it obtained the response given on September 21 to Eugen Schmidt, a member of the opposition Alternative for Germany (AfD) party. No details about the reported seizure were offered.
The Czech government publicly said it did not intend to confiscate Russian cars after the EU guideline was released.
"We will not confiscate goods and cars from Russian citizens in the internal market because they have already been cleared to be in the EU territory," Czech Minister for European Affairs Martin Dvorak said at the time.
Customs chief Hana Prudicova said her nation may be required to enforce sanctions on Russian goods if they arrive by air. But otherwise, "it is obvious that these vehicles should not enter the territory of the Czech Republic at all," she explained.
The EU introduced stringent trade restrictions against Russia in response to the Ukraine crisis. Germany was among the first countries to embrace an interpretation that provided legal grounds for seizing Russian cars, with the initial cases reportedly occurring in May.
The EU guidelines at first called for rigorous examination of various goods carried by Russian travelers, even extending to their clothing and personal care items. However, Brussels later acknowledged that personal belongings presented a minimal risk of sanctions evasion.
Moscow has blasted the seizure threat as an example of the EU's "racism" towards Russian citizens. Finland, a neighbor of Russia that has banned Russian cars, has acknowledged that such measures do "hurt normal people," as Foreign Minister Elina Valtonen explained.
"I don't think we have a choice," she said, claiming that Russians must realize that the Ukraine conflict "comes with a price."
You can share this story on social media: