Musk mocks Zelensky over aid demands
Ukraine was previously angered by the billionaire's refusal to allow the use of Starlink for a planned attack on Crimea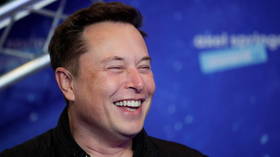 SpaceX and Tesla CEO Elon Musk has ridiculed Ukrainian President Vladimir Zelensky over his demands for more financial support from the US and its allies amid the conflict with Russia.
Posting on his X (formerly Twitter) social media platform on Sunday, Musk shared the popular 'stressed guy' meme with Zelensky's face photoshopped onto it and with a caption reading: "When it's been five minutes and you haven't asked for a billion dollars in aid."
The post had already gained more than 25 million views and over 350,000 likes at the time of writing.
The 'stressed guy' meme features an image of a male student whose neck and forehead are bulging with veins while he sits beside a girl in a classroom. The picture is commonly shared for humorous descriptions of frustrating or uncomfortable situations.
Musk's post comes after Zelensky attempted to drum up more support from the US during a visit to Washington in September. According to US Senate Majority Leader Chuck Schumer, the Ukrainian president told him that "if we don't get the aid, we will lose the war."
The administration of US President Joe Biden has provided Kiev with around $46 billion since the beginning of the conflict with Russia in February 2022. However, no funding for Ukraine was included in the last-minute budget deal struck by Congress late on Saturday which allowed the US to avoid a federal government shutdown.
US House Speaker Kevin McCarthy, who was among the Republicans to oppose the Biden administration's request to allocate $6 billion more to Ukraine, said that the priority must be protecting America's borders.
The Zelensky government considered Musk among its backers early in the conflict with Russia, when SpaceX donated $80 million worth of Starlink satellite internet terminals to Ukraine. Kiev's forces have relied heavily on the system for communications.
However, the billionaire was involved in a spat with Ukrainian officials and social media users last October after he proposed a peace plan to settle the conflict. Musk suggested that Russia should "redo elections of annexed regions under UN supervision," while Ukraine would commit to neutrality and drop its claim to Crimea. Four former Ukrainian regions voted to join Russia a year ago, while Crimea held a similar referendum in 2014 after a Western-backed coup in Kiev.
Zelensky reacted to the idea by launching a social media poll, asking followers "which Elon Musk" they "like more" – the one "who supports Ukraine" or the one "who supports Russia." Kiev's then ambassador to Germany, Andrey Melnik, went further by telling the US billionaire to "f**k off." A few days after the row, the Ukrainian military reportedly began experiencing problems with Starlink services.
Musk's biography by historian Walter Isaacson, which came out in September, described an incident last autumn in which the billionaire allegedly told his engineers to shut down satellite internet coverage in Crimea amid an attempted Ukrainian drone assault on the Russian peninsula. According to Isaacson, the tech entrepreneur concluded that "allowing the use of Starlink for the attack… could be a disaster for the world."
Ukrainian presidential aide Mikhail Podoliak claimed that Musk was "committing evil and encouraging evil" with his decision, which he said was the result of "a cocktail of ignorance and big ego."
You can share this story on social media: