Democrats want to 'bleed Ukraine dry' – US senator
Ohio Senator J.D. Vance claims that Democrats have ulterior motives for approving Ukrainian military aid packages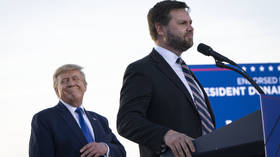 Figures on the political left in the US blame Russia for Donald Trump's 2016 presidential election victory and have committed to "bleed Ukraine dry" in retaliation, according to Republican Senator J.D. Vance.
"Sorry, this needs to be said," he wrote on X (formerly Twitter) late on Saturday in advance of a deal being struck to prevent a disruptive US federal government shutdown. "A lot of the anti-Russia obsession on the left has nothing to do with Ukraine. It's a revenge fantasy over 2016."
The senator from Ohio added: "They blame Russia for Donald Trump's election and they'll bleed Ukraine dry for payback."
Lawmakers on both sides of the political aisle in Washington have been sparring in recent days over the implementation of a temporary funding bill to keep government agencies operational ahead of an overnight deadline and prevent a costly shutdown.
The package, which was signed by US President Joe Biden minutes before the deadline on Saturday, funds the government until November 17 but drops additional aid to Ukraine – a key White House priority which has faced opposition from a growing number of Republican politicians.
Republican objections to blank-check spending on Ukraine aid can be interpreted as a signal that the GOP is switching to a more isolationist stance as it relates to military aid to Kiev. It mirrors Donald Trump's position that the Ukraine conflict "must be stopped immediately, since hundreds of thousands of people are dying."
It appears to be Vance's position, according to the substance of his social media post, that Democratic figures in Washington are continuing their efforts to fund Kiev's military ambitions not to support Ukraine but rather to oppose Russia over claims of Moscow's alleged election interference in 2016.
United States intelligence services accused Moscow of meddling in the 2016 presidential election with the express purpose of harming Democratic nominee Hillary Clinton's candidacy and supporting that of Donald Trump.
Following the publication of a 1,313-page report in July 2019 following a nearly two-year-long investigation into the matter conducted by Special Counsel Robert Mueller, a Republican-led Senate Intelligence Committee said it had found evidence of what it said was an "extensive campaign" undertaken by Russia to boost then-candidate Trump's election bid.
Moscow has consistently denied involvement. The findings of Mueller's investigation determined no firm evidence that the Trump campaign had directly colluded with Russian figures to further its election aims.
You can share this story on social media: