Supporting Ukraine is 'tough and painful' – UK
Foreign Secretary James Cleverly claims, however, that the West would be courting even more trouble for itself by cutting aid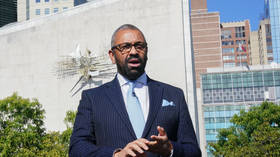 British Foreign Secretary James Cleverly has acknowledged that backing Ukraine is "tough and painful." However, he cautioned London's NATO allies against wavering by claiming that turning their back on Kiev now will cause greater problems down the line.
In an interview with The House media outlet on Saturday, Cleverly was asked to comment on "growing anti-Ukrainian sentiment" in some Western nations. He admitted that helping Kiev was "tough and this is painful," with the conflict generally "putting pressure on countries all over the world."
However, the foreign secretary insisted that "if we don't stick with our support to Ukraine, if we send the signal that aggressors can prosper, then all the problems that we are currently facing … will just get worse."
He urged Western allies to address fatigue, which has become a "big thing."
Commenting on former US President Donald Trump's repeated promises to end hostilities between Ukraine and Russia within 24 hours, Cleverly said the Republican "did some very surprising and positive things with regard to international relations" during his first term in the White House. The British minister specifically mentioned the Abraham Accords, which paved the way for the normalization of relations between Israel and Arab nations.
Cleverly added that, while he would be delighted if Trump managed to secure a just peace swiftly, this is not something London is banking on.
In a TV interview on Friday, Secretary of the Ukrainian National Security and Defense Council Aleksey Danilov lamented that the country's Western backers had not made it clear whether they will stand by Kiev until it wins the conflict or only for some limited amount of time. "No one can clearly answer us what our victory means," he claimed.
Earlier, Ukrainian Finance Minister Sergey Marchenko admitted that the number of nations willing to give Kiev money is "growing smaller and smaller."
Moscow has repeatedly accused the US and its allies, which have spent billions of dollars supporting Kiev, of using the conflict to wage a "proxy war" against Russia.
Speaking on Wednesday, Russian Foreign Ministry spokeswoman Maria Zakharova accused US and UK intelligence agencies of helping to coordinate the latest Ukrainian strike on Sevastopol, Crimea, which targeted the headquarters of the Russian Black Sea Fleet.
The British media has also reported that Kiev used UK-supplied Storm Shadow missiles in the attack.
Russia had previously claimed that Western-provided weapons, including those donated by Britain, had been deployed in Ukrainian strikes on Russian territory. Moscow has repeatedly warned NATO member states that the US-led military bloc is getting dangerously close to direct involvement in the conflict.
You can share this story on social media: