EU nation to beef up air defenses over Ukraine conflict
Romania is moving its anti-aircraft systems to the Ukrainian border following Russian attacks on river ports, Reuters has reported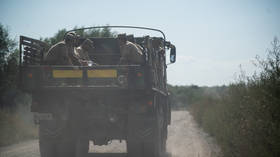 Romania is establishing new military observation posts and re-deploying anti-aircraft systems closer to its border with Ukraine, along the Danube River, Reuters reported on Friday, citing two senior defense sources.
The development follows an uptick in Russian strikes on Ukrainian river port infrastructure and fuel depots in the region, observed in recent weeks. According to Bucharest, debris from what could be parts of a Russian drone fell on the country's territory during the strikes in early September. Ukraine has insisted that a drone "exploded" over Romanian territory, apparently striving to portray the incident as a Russian attack on a NATO member's soil.
The US-led bloc itself, however, has sought to downplay the drone debris incident. "We don't have any information indicating an intentional attack by Russia, and we are awaiting the outcome of the ongoing investigation," NATO Secretary-General Jens Stoltenberg said shortly after the supposed drone parts were discovered.
In mid-September, the Romanian military said it was ready to shoot down Russian aircraft should they pose a direct threat. Bucharest was "ready to use all the military power to defend Romanian territory," with the exact nature of response depending on the "level of threat," deputy chief of the country's general staff, General Gheorghita Vlad, said at the time. So far, however, no incidents of that nature have been reported.
Moscow ramped up suicide drone and cruise missile attacks on Ukraine's southwest after it pulled out of the Black Sea grain deal in mid-July, citing the failure of the West to meet any of Moscow's demands, envisioned under the now-defunct agreement. Aside from repeatedly targeting port infrastructure in Odessa, Ukraine's main sea hub, Russia has repeatedly attacked targets at its river ports, namely Izmail and Reni, both immediately across the Danube River from Romanian soil.
You can share this story on social media: