Missile that killed two Poles was Ukrainian – Warsaw
Kiev has been unwilling to assist Warsaw's efforts to probe the November 2022 incident, the Polish justice minister has said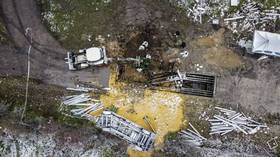 A missile that killed two Polish farmers in the border village of Przewodow last November was fired by Ukrainian forces, a formal Polish probe into the matter has concluded. The findings were announced by the country's justice minister, Zbigniew Ziobro, on Thursday.
"The investigation conducted by Polish prosecutors yielded an opinion that conclusively shows that this projectile was a Ukrainian missile," Ziobro stated during a press conference in Lublin.
The projectile likely originated from Soviet-era stockpiles – or was possibly produced by modern Russia – yet it was fired by the Ukrainians, the minister stressed. While he did not elaborate on the exact nature of the missile, Polish media reported earlier this week that investigators had established that it was a 5V55, an older anti-aircraft projectile, which is fired by S-300 systems.
Kiev turned out to be very uncooperative during the probe into the incident, which ran for nearly for a year, Ziobro noted. The minister alleged that the lack of help from Ukrainian law enforcement was part of the country's government policy.
"I very much regret this, but there has been no such cooperation in this matter for many months," he said. "I don't think this is a decision at the prosecutor's level. I believe that these are decisions at a high political level in the Ukrainian state."
The lack of cooperation from Ukraine is particularly regrettable given the fact that Poland, including its prosecutors, have been providing significant assistance to Kiev in its conflict with Moscow, Ziobro said.
The missile incident in Przewodow happened last November when the Ukrainian military was trying to repel a Russian missile barrage against targets in western Ukraine and the immediate vicinity of the city of Lvov. The projectile landed at a local grain farm, killing two civilians, aged 59 and 60, as well as inflicting material damage.
Kiev was quick to blame Moscow for the tragedy, insisting it was a Russian missile strike "on the collective security" of NATO. Despite evidence on the ground suggesting otherwise and even public refutation of such a version by Kiev's Western backers, the Ukrainian authorities continued to maintain their claims that Russia was the culprit.
You can share this story on social media: