French watchdog demands criminal charges for porn producers
Up to 90% of adult content analyzed by the country's gender equality minder was said to involve violence against women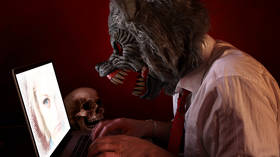 France's government-appointed High Council for Gender Equality has called for criminal charges to be filed against porn producers, in a report released Wednesday.
As much as 90% of explicit online adult content depicts verbal, physical, and sexual violence against women, the watchdog's report, titled "Pornocriminality: putting an end to the impunity of the porn industry," stated. Much of that content is not only insulting and dehumanizing but rises to the level of torture, constituting an egregious violation of French law, it continued, demanding legal reforms that would allow producers to be more easily punished for recorded acts of brutality.
Contracts signed by the actresses in such films must be declared legally null and void since it is impossible in France to consent to torture, trafficking, or sexual exploitation, the watchdog argued, accusing the government of "inaction," denial, and coddling the industry's alleged evildoers with "complete impunity."
The 230-page report also called for Pharos, the country's internet content police, to expand its remit to include violence against women. Pharos agents are tasked with investigating reports of illegal content, including fraud, terrorism, and child porn, and forwarding substantiated examples to the relevant authorities for punishment.
Several court cases against porn producers are reportedly underway within the French justice system, with charges that include rape, human trafficking, and torture. However, the report insisted that such piecemeal retribution was not enough.
"For the few dozen victims whose cases make it to the justice system, there are millions of unchecked videos circulating, thriving on misogynistic violence and hatred, to the general indifference," the report explained.
Sylvie Pierre-Brossolette, director of the gender equality group, doubled down on the report's conclusions to France Inter radio on Wednesday, denouncing the adult film industry as "a factory for future rapists, future killers of women," that must be shut down. There is "no justification in 2023 for tolerating these unlawful acts of unbearable torment," especially where they could be seen by minors, she added.
The report cited figures recently released by regulator Arcom showing just over half (51%) of 12-year-old French boys access porn on a monthly basis, while a third of French girls have seen such content. This, it said, perpetuates a culture of sexual violence that "chews up women."
Advocating a program of sex education for minors to include multiple sessions on the evils of pornography, the group also called for banning minors from accessing such platforms altogether as well as imposing steep fines and content blocks on sites without effective age controls.
You can share this story on social media: