Black felon suspected in murder of 'anti-racist' CEO
A Baltimore technology entrepreneur has been found beaten to death on the roof of her apartment building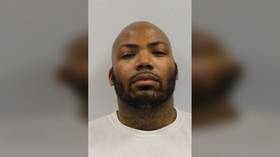 Police in Baltimore, Maryland, have launched a manhunt for a black suspect who allegedly murdered a local business executive who had railed against "criminalization of black bodies" and described herself as an "anti-racist."
"This individual will kill, and he will rape," Baltimore Police Commissioner Richard Worley said on Tuesday at a press briefing regarding the alleged beating to death of 26-year-old Pava LaPere. "He will do anything he can to cause harm." Worley announced an arrest warrant for 32-year-old Jason Billingsley for first-degree murder and other charges stemming from the alleged attack on LaPere.
The body of LaPere, the CEO of EcoMap Technologies, was found on the roof of her luxury apartment building on Monday. Police said there were signs of blunt-force trauma to her head, which one officer described as "absolutely brutal."
Billingsley, a registered sex offender who was released from prison last October after serving just nine years of a 30-year sentence, is a suspect in at least one other criminal case. He has a history of violent crimes dating back to at least 2009, and Baltimore Mayor Brandon Scott said he should be considered "extremely dangerous."
"There is no way in hell that he should have been out on the street," the mayor told reporters. "When the police go out and do their job, as they did in this case . . . and the state's attorney goes out and does their work, gets the conviction, the conviction should be the conviction. We are tired of talking about the same people committing the same kind of crimes over and over again."
LaPere, who employed dozens of people at EcoMap Technologies, was honored this year by Forbes magazine on its "30 Under 30" list of top young executives in terms of social impact. She was a vocal supporter of Black Lives Matter and spoke out against alleged racism in the US criminal justice system.
"EcoMap Technologies stands against systemic racism, bigotry and a police state that criminalizes black bodies," LaPere reportedly said on her Instagram account. "We stand in support of the Black Lives Matter movement, now and always. We commit to being anti-racist in all aspects of what we do – from the team members we hire to the customers we serve."
LaPere touted the fact that more than 30% of her employees were black. "We commit to improving diverse representation in our company," she said. "In addition to donations, we will commit our community service hours to organizations that promote and support black entrepreneurship."
EcoMap Technologies posted a statement on Tuesday, calling the circumstances surrounding LaPere's death "deeply distressing." The company added, "Pava was not only the visionary force behind EcoMap but was also a deeply compassionate and dedicated leader."
You can share this story on social media: