Death toll soars to 125 in Nagorno-Karabakh blast
A fuel depot exploded amid an exodus of ethnic Armenians from the disputed province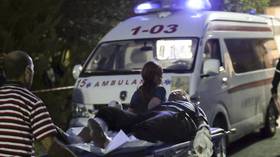 At least 125 people were killed in Monday's explosion at a fuel depot in Nagorno-Karabakh, according to Armenian media reports on Tuesday. The blast took place as tens of thousands of ethnic Armenians fled the region ahead of its takeover by Azerbaijan.
The remains of 125 people were transported to Armenia on Monday, Pan Armenian News reported, citing Health Minister Anahit Avanesian. Initial reports following the blast put the death toll at 29, with almost 300 injured and an unknown number missing.
Located on a highway near the self-declared regional capital of Stepanakert (known as Khankendi in Azerbaijan), the fuel depot exploded on Monday as crowds of people queued to fill their vehicles. Video footage from the scene showed widespread devastation, with a thick plume of oily black smoke towering into the sky over the destroyed facility.
The blast came almost a week after secessionist leaders in Nagorno-Karabakh surrendered to the Azerbaijani military following a day-long assault characterized by Baku as "counter-terrorism measures." Under the terms of the surrender, Nagorno-Karabakh will be returned to Azerbaijani control, almost three decades after the enclave won quasi-independence following a war between Armenia and Azerbaijan in 1994.
Fearing ethnic cleansing under Baku's control, tens of thousands of ethnic Armenians have fled the region following the ceasefire. As of Tuesday evening, 28,120 of Nagorno-Karabakh's 120,000 Armenians – or almost a quarter of the province's population – had entered Armenia, according to authorities in Yerevan.
US Secretary of State Antony Blinken has called on Azerbaijani President Ilham Aliyev to ensure that the human rights of Nagorno-Karabakh's Armenian population are protected under his rule. Aliyev has promised to do so, but has previously referred to Aremenians as "not even worthy of being servants," and is considered a human rights abuser by Western observers.
You can share this story on social media: