EU state plans major change to asylum rules
Finland will turn "unfounded" asylum applicants away at its borders, Interior Minister Mari Rantanen has said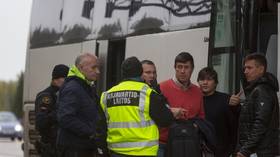 Finland will begin turning away bogus asylum applicants at its EU border, Interior Minister Mari Rantanen told reporters on Monday. A ministry spokesperson said the rule would also apply to non-EU migrants arriving by plane.
Speaking at a press conference on Monday, Rantanen said that the Finnish government is drafting rules that will empower border guards to determine whether asylum applications are "unfounded," Finland's Iltalehti newspaper reported.
Should an application be ruled invalid, migrants will be removed either immediately or within four weeks, a spokesperson for the Interior Ministry told the newspaper. At present, asylum applications can take up to six months to process, often at centers far from the border.
Finland's non-EU borders are shared with Russia and Norway. According to the Finnish Immigration Service, around 1,100 Russians were awaiting decisions on their asylum applications at the beginning of September.
Finnish authorities have already attempted to restrict entry from Russia. Finland now requires that all visa applications by Russians be filed in one office in Moscow rather than the much closer city of St. Petersburg. Additionally Finland has forbidden Russian-registered cars from entering the country, and has demanded that Russian-registered vehicles already in Finland be removed within six months.
Although the latest change to asylum rules is apparently aimed at Russia, the ministry spokesperson said that it would also apply to non-EU migrants arriving in Finland by plane.
Back in June, Rantanen announced that her government would be making "a complete paradigm shift" on immigration. This shift will see Finland cut the number of refugees it takes via UN programs every year from 1,050 to 500, and revoke visas for refugees who return to their home countries for "holidays."
"We have to react to what we've seen in Sweden. We're looking to take action to make sure immigration doesn't cause economic or security threats to Finland," she said at the time.
You can share this story on social media: