New details emerge from Canada's honoring of Ukrainian Nazi veteran
A photo has surfaced suggesting a former Waffen-SS member may have personally met Prime Minister Justin Trudeau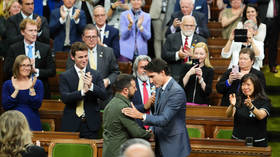 The scandal surrounding the Canadian parliament's celebration of Ukrainian former Nazi soldier Yaroslav Hunka has escalated, after a photo was shared online suggesting he may have personally met with Canadian Prime Minister Justin Trudeau.
An image posted on Friday on the Facebook page of 98-year-old Hunka's granddaughter, Theresa, showed the World War II Waffen-SS veteran sitting in a wheelchair in a room behind a corridor decorated with Canadian and Ukrainian flags.

"Dedo [grandfather] is waiting in the reception hall for Trudeau and [Vladimir] Zelensky," Theresa wrote in the caption, suggesting that Hunka was expecting the arrival of the Canadian prime minister and the Ukrainian president.
It is unclear if the picture depicted the moment before the Nazi veteran was welcomed at the parliament session attended by Trudeau and Zelensky, or if he was due to meet them personally. Many X (formerly Twitter) users suggested that the latter was true.
Theresa Hunka promptly made her Facebook account private after the photo was widely shared on other social media platforms.
🇨🇦🇺🇦 Well This Is Awkward!The Speaker of the Canadian Parliament barely had time to take full responsibility for inviting SS veteran Yaroslav Hunka (saying Trudeau and Zelensky had nothing to do with it), when reporters found a Friday post from the granddaughter of the Nazi -… pic.twitter.com/anERAU81ib

— DD Geopolitics (@DD_Geopolitics) September 25, 2023
Trudeau himself claimed the celebration of Hunka was "extremely upsetting" and "deeply embarrassing to the Parliament of Canada and by extension to all Canadians." He did not mention any personal meeting with the SS veteran, but instead called for a "push back against Russian propaganda."
Hunka had been invited to attend parliament as a "Ukrainian and Canadian hero," despite widely available photographic evidence of his membership in the SS. Canadian House of Commons Speaker Anthony Rota took sole responsibility for the incident, claiming it was his initiative and that he later regretted it.
Trudeau's office insisted that "no advance notice" had been provided to Zelensky's delegation or to the Canadian leader about Hunka's invitation.
The standing ovation the Nazi veteran received has sparked fury among Jewish Groups and numerous nations, including Russia and Poland. Kremlin spokesman Dmitry Peskov described the incident as "outrageous negligence."
Warsaw has demanded that Rota resign from his post and that Hunka be charged with war crimes. The UN stated that it opposes "any honoring of people who actively took part in Nazi activities during the Second World War."
You can share this story on social media: