Zelensky's wife unsure if he will seek re-election – CBS
The Ukrainian president previously claimed organizing elections would be impossible given the national circumstances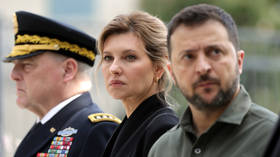 Ukrainian President Vladimir Zelensky might not run for re-election next year, his wife, First Lady Elena Zelenskaya, told CBS' Face the Nation on Sunday, even as with no opposition, the outcome of any election is almost certainly a foregone conclusion.
Zelensky banned all opposition political parties less than a month into Russia's military operation and consolidated all potentially adversarial media outlets into one state-backed platform. No potential presidential challengers have come forward either.
However, Zelenskaya said that her husband's decision on whether to run again may be influenced by the difficulties of organizing elections amid a military conflict, with millions of eligible voters scattered all over the surrounding continents. She added that she would nevertheless "support him whatever decision he takes."
"It will also depend whether our society would need him as a president, if he will feel that Ukrainian society would no longer wish him to be the president, he will probably not run," she added, admitting that she was uncertain of her husband's intent.
While Zelenskaya claimed she "didn't fully endorse" his first attempt at the presidency, she acknowledged that a second try would be "not as scary" due to the couple's experience. She called the moderator's question – about how she would feel if Zelensky launched a re-election bid – a "difficult" one.
The Ukrainian head of state visited the US last week to meet with President Joe Biden and other leaders, coming back with a pledge of "up to $325 million" for "critical security and defense needs" from the White House, after reportedly warning American lawmakers that Kiev may lose to Russia otherwise. Washington has reportedly handed over $75 billion to Kiev in the last two years, with most of that – $46.6 billion – being military aid.
A survey published earlier this month revealed nearly eight in ten Ukrainians blame Zelensky for the rampant corruption that plagues their country – another reason the president might be apprehensive about running for re-election.
He has also complained about weakening Western support, using an interview with The Economist to denounce his unfaithful erstwhile benefactors as closet Russia supporters and threaten them with losses in their own elections if Kiev succumbs militarily, and social problems, should the millions of Ukrainian refugees scattered throughout Europe get unruly.
Ukrainian martial law prohibits elections, and Ukrainian security officials recently acknowledged to the Washington Post that a vote would be essentially impossible with most of the population deployed on the front lines or living outside the country. However, Kiev is facing increasing pressure from the West to at least maintain the appearance of a functioning democracy, a demand the government cannot afford to dismiss outright given the degree to which it is financially dependent on American and European largesse.
In June, Zelensky claimed that an election could only take place after the conflict is settled, only to reverse course in August and say it is possible – as long as he receives an additional $135 million.
You can share this story on social media: