Ukrainians blame Zelensky for corruption – poll
Nearly eight in ten citizens believe the country's president is "directly responsible" for rampant graft, a new survey has shown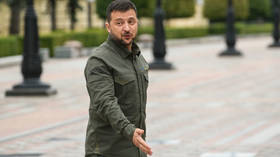 The vast majority of Ukrainians believe that President Vladimir Zelensky is at fault for widespread corruption in the country's government and military, a new study has revealed.
The poll, released on Monday, found that 78% of Ukrainian adults see Zelensky as "directly responsible" for Kiev's corruption problem. It was conducted by the Ilko Kucheriv Democratic Initiatives Charitable Foundation and the Kiev International Institute of Sociology.
Prior to the launch of Russia's military offensive in February 2022, Ukraine consistently ranked among the world's most corrupt nations, but it was touted as a bastion of freedom and democracy as the US and its NATO allies rallied public support for massive aid to Kiev. However, Ukrainian corruption remains a concern and could hinder the country's bid to join the European Union, an unidentified Western diplomat told Politico on Monday.
Ukraine is a "very corrupt country," the diplomat said, adding that Zelensky's plan to use the Security Service of Ukraine (SBU) to prosecute graft cases could "send the wrong message." Upon landing in Kiev for a surprise visit on Monday, German Foreign Minister Annalena Baerbock reportedly said Ukraine needed to step up its efforts to fight corruption.
The Ukrainian poll was conducted from July 3 to July 17 in face-to-face interviews with thousands of citizens across the country. There were no major differences in findings based on region or socioeconomic factors. Respondents aged 60 and older took a harsher view, with 81% saying Zelensky was responsible for government corruption. The rate was 70% in the youngest segment, ages 17 to 29. Overall, only 18% of Ukrainian adults disagreed with the statement that Zelensky bears responsibility.
Documents obtained by the International Association of Investigative Journalists in 2021 showed that Zelensky and his business partners set up offshore companies to purchase lavish properties in central London. Zelensky transferred his stake in one of the companies to an aide just before he was elected president in 2019. Supporters of former Ukrainian president Petro Poroshenko accused Zelensky and his associates of using their offshore accounts to evade taxes.
Zelensky has purged officials in his government for alleged corruption, including an embezzlement scheme involving humanitarian aid. Just this month, he sacked Defense Minister Aleksey Reznikov, who came under fire earlier this year over purchases of military rations at inflated prices. However, the new defense chief, Rustem Umerov, is reportedly under investigation for alleged crimes in his previous job.
You can share this story on social media: