Hungary issues ethnic rights ultimatum to Ukraine
Budapest will not back Kiev internationally until it restores the rights of Hungarians, Prime Minister Viktor Orban declared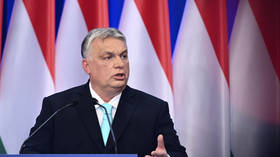 Hungary will not support Ukraine "on any issue" until Kiev restores the rights of ethnic Hungarians on its territory, Prime Minister Viktor Orban said in parliament on Monday. Budapest's backing is vital to Ukraine's bid to join the EU.
"We will not support Ukraine on any issue in international life until it restores the laws that guaranteed the rights of Transcarpathian Hungarians," Orban said, adding that "for years [the Ukrainians] have been tormenting" Hungarian schools.
Since 2017, successive laws mandating the use of the Ukrainian language have resulted in the closure of around 100 Hungarian schools in Ukraine. These laws have been harshly criticized by the Council of Europe and by human rights organizations.
According to Orban, the situation has deteriorated with the beginning of a new school year, with management at a school in the city of Munkacs forbidding the singing of the Hungarian national anthem or the wearing of Hungarian national colors on the first day back in the classroom.
Around 156,000 ethnic Hungarians live in Ukraine, most of them in the region of Transcarpathia. Once a part of the Austro-Hungarian Empire, this region fell under Soviet control after World War II. It remained in Kiev's hands when the Ukrainian SSR became modern Ukraine after the fall of the USSR. Ukraine is also home to around 150,000 ethnic Romanians and more than 250,000 Moldovans, and Bucharest has joined Budapest in demanding that the language laws be revised.
Foreign Minister Peter Szijjarto warned in March that Budapest would not support Kiev's applications to join the EU and NATO until these issues are resolved.
Hungary does not provide any military aid to Ukraine or allow weapons to enter the country via its territory. However, Hungary will have veto power over whether Ukraine can join the EU and NATO due to both bodies requiring the unanimous consent of existing members before admitting new states. The dispute over language rights is just one of several points of contention between Budapest and Kiev.
Orban's government has also condemned the Ukrainian military's efforts to conscript ethnic Hungarians into military service and blocked EU military aid to Ukraine over Kiev's sanctioning of one of its banks due to its lending activities in Russia. More recently, Hungary has blocked the import of Ukrainian grain to protect its farmers from being undercut, prompting Ukraine to threaten a lawsuit at the World Trade Organization.
You can share this story on social media: