German chancellor meddling in Polish elections – Warsaw
Foreign Minister Zbigniew Rau asked Berlin to respect its neighbor's sovereignty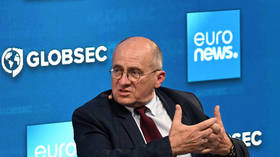 German Chancellor Olaf Scholz is attempting to interfere in the Polish parliamentary election scheduled for next month, Foreign Minister Zbigniew Rau has said. The rebuke came after Scholz raised concerns over the cash-for-visas scandal, which has become a major issue of the campaign.
"The latest statement by German Chancellor Olaf Scholz violates the principles of the sovereign equality of states, which is the foundation of good neighborly relations and friendly cooperation with Poland," Rau wrote on X (formerly Twitter) on Sunday, adding that Polish internal affairs are outside of the chancellor's purview.
"Statements in this regard indicate an attempt to interfere in the internal affairs of the Polish State and the ongoing electoral campaign in Poland," Rau said. He asked Scholz to "respect Poland's sovereignty and refrain from statements that damage our mutual relations."
Scholz earlier demanded "clarification" from Warsaw over allegations that the Polish government had tolerated an illegal visa scheme involving migrants from outside the EU. The chancellor spoke in favor of implementing "additional measures" at the border with Poland, while the German Interior Ministry summoned the Polish ambassador over the matter.
Poland's chief opposition party, the centrist Civic Platform, accused the ruling conservative Law and Justice party of a corruption scheme in which work visas were sold at Polish consulates around the world. The issue is particularly sensitive, given the ruling party's tough stance on migration and border controls. The matter rattled Berlin because Poland and Germany do not have a physical border.
While Poland admitted that a number of visas were issued illegally and charged seven people in relation to the affair, Justice Minister Zbigniew Ziobro insisted that the summoning of the country's envoy by Berlin was based on "false media reports."
Apart from the scandal with visas, Warsaw is currently feuding with its eastern neighbor, Ukraine, over the grain trade. On Friday, Prime Minister Mateusz Morawiecki accused Ukrainian President Vladimir Zelensky of "insulting" the Polish people after Zelensky criticized Warsaw's decision to close its domestic market to grain from Ukraine. Polish officials insisted that the ban was a necessary measure to protect the country's farmers.
You can share this story on social media: