NATO membership for Ukraine not in US interests – DeSantis
Washington would have more obligations to meet if Kiev joined the bloc, Ron DeSantis has said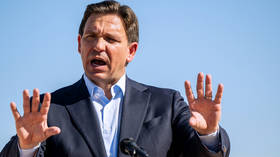 Ukraine joining NATO would be of no benefit to the US and would become yet another burden for Washington, Florida governor and Republican presidential candidate Ron DeSantis has said.
In an episode of The Glenn Beck Program podcast on Saturday, he was asked whether he believed Ukraine should give a commitment never to join the US-led military bloc in order to make peace.
"I don't think NATO membership is in our interest," replied DeSantis, who is considered a top rival of former president Donald Trump in the GOP primaries.
"All that would do is add more obligations to us, so … if you're adding more obligations, then what are the benefits that we're getting in return? In that case, I don't know what the benefits necessarily would be," he added.
Ukraine applied to join NATO in September 2022 after four of its regions overwhelmingly voted to join Russia in referendums. While the bloc's members have declared that Kiev will eventually become a member of NATO, they have not provided any timelines.
DeSantis also reiterated that he categorically opposes sending American troops to Ukraine, adding that Washington's goal should be to end the conflict. He criticized the current "blank-check" policy of supporting Kiev with financial and military aid.
This position has been gaining traction within the ranks of the GOP in recent months, with some Republicans repeatedly raising accountability concerns. Earlier this week, a group of more than two dozen of the party's senators and Congress members submitted a letter to the White House demanding answers.
"The American people deserve to know what their money has gone to. How is the counteroffensive going? Are the Ukrainians any closer to victory than they were six months ago? What is our strategy, and what is the president's exit plan?" they asked the Biden administration.
The lawmakers indicated that, until those questions are answered, they will oppose additional spending in support of Ukraine. Their pushback came as Congress debates whether the US, which has already provided tens of billions of dollars in aid to Ukraine, should approve Biden's latest request to send another $24 billion in assistance.
You can share this story on social media: