If West wants battlefield resolution to Ukraine conflict, so be it – Lavrov
Russia's Foreign Minister said Moscow welcomes negotiations about Ukraine but has ruled out a ceasefire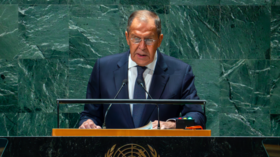 If the West seeks to settle the Ukrainian conflict by force, Moscow will respond accordingly, Russia's Foreign Minister Sergey Lavrov told a press-conference following his speech at the United Nations General Assembly in New York on Saturday.
"[The West says that] in general, Russia must be defeated on the battlefield," Russia's top diplomat told journalists at the 78th session of the assembly.
"[…] No one wants to seriously show understanding of what is happening - [and] those who understand do not really want to show it publicly," he said, before adding that "If the West wants to resolve the issue on the battlefield, so be it."
Lavrov, who branded the collective West an "empire of lies" during his speech, delivered his comments to the UNGA four days after Ukrainian president Vladimir Zelensky and United States leader Joe Biden spoke.
The Kremlin's foreign minister also accused the United States and "its subordinate Western collective" of attempting to "artificially divide humanity into hostile blocs." It is a tactic, Lavrov said, that is designed to "force the world to play according to their self-centered rules."
At the press-conference Lavrov also said that certain "peace formulas" related to the conflict in Ukraine, including any which have received approval from President Zelensky, "are unrealistic, and everybody knows it."
But the diplomat did state that Moscow is prepared to engage in negotiations to bring an end to the conflict between Russia and Ukraine, though he ruled out the possibility of agreeing to a ceasefire, because, he said, "Moscow has already been deceived once."
You can share this story on social media: