Biden predicts face-off with Trump in 2024
The US president told assembled donors that his predecessor will likely be the Republican candidate in the next elections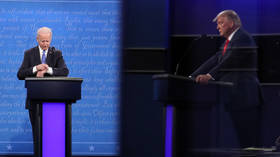 The 2024 US presidential elections will likely come down to a choice between Donald Trump and Joe Biden, the sitting president told a group of his donors during a private fundraising event in New York, according to a Bloomberg report, published on Wednesday.
"He may be the nominee again. It looks like he is destined to be the nominee again," Biden said of Trump's likelihood of becoming the Republican Party candidate in the election.
The former president currently enjoys a significant lead against other party candidates. The RealClearPolitics average of national polls suggests Trump has a 46% lead over his closest challenger, Florida Governor Ron DeSantis.
In a message to his supporters in New York on Wednesday, Biden stressed that "every American who loves democracy" should "join together" in the upcoming elections to help him secure a second term and "save American democracy."
Biden also warned the fundraiser attendees, who had reportedly paid up to $7,500 each to hear him speak, that the former US president was a threat to the country, according to NPR Senior White House Correspondent Tamara Keith.
"Donald Trump and his MAGA Republicans are determined to destroy American democracy," said Biden, insisting that he, on the other hand, will "always defend, protect, and fight for our democracy."
According to a recent CBS News survey, only 34% of registered US voters believe that Joe Biden would be able to complete a second term in office if he manages to win the upcoming election. An August Wall Street Journal poll also found that 73% of voters think Biden is too old to seek a second term.
Voters have repeatedly expressed low confidence in the 80-year-old president's physical and mental health – an issue repeatedly pressed by Donald Trump, who has called the current US leader "incompetent."
"I watched him yesterday, he couldn't put two sentences [together], he can't talk," Trump said of Biden last week. "It's not an age thing, it's a competence thing."
Meanwhile, most polls currently show Biden and Trump neck-and-neck with more than a year to go until the 2024 election. The CBS survey showed Trump beating Biden by a single percentage point, at 50%-49%, with 1% undecided.
You can share this story on social media: