Prosecutors seek to silence Trump with gag order
Special counsel Jack Smith has claimed the former US leader "made clear his intent to issue public attacks"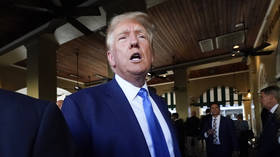 US District Court Judge Tanya Chutkan has unsealed a redacted copy of a government filing in which special counsel Jack Smith asked for a "narrow, well-defined" gag order against former President Donald Trump in a criminal case related to an alleged conspiracy to overturn the 2020 presidential election.
The special counsel's office claimed that Trump has been spreading "disparaging and inflammatory public posts on Truth Social on a near-daily basis regarding the citizens of the District of Columbia, the Court, prosecutors, and prospective witnesses."
Trump's statements are "intended to undermine public confidence in an institution—the judicial system—and to undermine confidence in and intimidate individuals—the Court, the jury pool, witnesses, and prosecutors," they wrote in last week's filing released on Friday, drawing parallels to "his previous public disinformation campaign regarding the 2020 presidential election."
Trump lashed out against the unsealed request, arguing that he is "campaigning for President against an incompetent person," who has "weaponized" the Department of Justice and the Federal Bureau of Investigation to silence his political opponent.
"How else would I explain that Jack Smith is DERANGED, or Crooked Joe is INCOMPETENT?" he fumed.
A spokesperson for the Trump campaign, Steven Cheung, also accused Biden of "corruptly and cynically continuing to attempt to deprive President Trump of his First Amendment rights."
Trump is set to be tried on federal conspiracy charges related to his alleged attempts to overturn the 2020 election on March 4 of next year, Judge Tanya Chutkan announced last month, rejecting the former president's legal team's request to postpone the federal case until April 2026. The ex-president has slammed the case as politically motivated, claiming he was unfairly targeted to remove him as a contender in the 2024 presidential race.
The former president's supporters have argued Judge Chutkan is not impartial and should recuse herself. Chutkan has famously doled out even harsher sentences to January 6 protesters than prosecutors demanded, sending dozens of them to prison. She has made no secret of her belief that the 'Stop the Steal' protest-turned-riot was an assault on US democracy directed by Trump.
You can share this story on social media: