South Korea and US issue warning to Russia
The two countries claim Moscow will pay a price for military cooperation with North Korea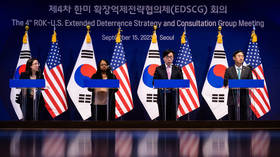 Russia is violating UN Security Council resolutions by engaging in military cooperation with North Korea and it will be held accountable for it, South Korean and US officials have warned.
High-ranking representatives from Seoul and Washington discussed ways to contain Pyongyang during an Extended Deterrence Strategy and Consultation Group (EDSCG) meeting in the South Korean capital on Friday. The gathering took place amid the visit of North Korean leader Kim Jong-un to Russia, which has sparked concerns in South Korea and the US.
"Russia's military cooperation [with North Korea] is a grave violation of UN Security Council resolutions," South Korean Vice Foreign Minister Chang Ho-jin said during a press conference after the event. Moscow should "act responsibly" as a permanent member of the UNSC, he added.
According to the deputy FM, Seoul and Washington "agreed to work together to ensure there is a price to pay for the grave violation of Security Council resolutions," which impose strict international sanctions on Pyongyang over its nuclear and ballistic missile programs.
His comments were echoed by US Under Secretary of State for Arms Control and International Security Bonnie Jenkins, who said "the recent reports about the potential sale of arms between North Korea and Russia are concerning."
If such a deal takes place, it would violate UNSC resolutions, Jenkins claimed, adding that the US would "try to identify, and expose, and counter Russian attempts to acquire military equipment to prosecute their illegal war in Ukraine, not only from the DPRK [North Korea], but wherever we see it."
Western media have speculated that Pyongyang supplying shells to Moscow and providing other forms of military cooperation was discussed during talks between Russian President Vladimir Putin and Kim Jong-un at the Vostochny Cosmodrome on Tuesday.
The two leaders, however, have not explicitly mentioned military cooperation so far during the DPRK leader's visit to Russia. Kremlin spokesman Dmitry Peskov told journalists on Friday that "no agreements were signed on this or any other issue" by the Russian and North Korean leaders. "There were no such plans," he added.
Throughout the conflict in Ukraine, Russia has repeatedly denied claims that it is using foreign equipment such as North Korean shells or Iranian drones. Moscow insists that it relies solely on locally made weapons in the course of its military operation.
You can share this story on social media: