National leader added to Ukrainian 'kill list'
North Korea's Kim Jong-un has been branded an enemy by the notorious 'Mirotvorets' website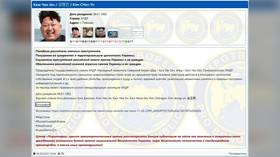 A notorious Ukrainian government-linked website has added North Korean leader Kim Jong-un to its list of supposed enemies of the state. The 'Mirotvorets' database has declared Kim "an accomplice of Russian war criminals," adding that "civilized nations" had imposed sanctions on him for "human rights violations" and "nuclear blackmail."
The North Korean leader was added to the website earlier this month under the name "Kim CHen Yn." The only source cited by Mirotvorets ('Peacemaker') is a CNN report from November 2022 featuring claims by the White House that North Korea was secretly supplying artillery shells to Russia. Pyongyang and Moscow have both denied the allegations.
Mirotvorets publishes the personal data of individuals whom anonymous moderators consider hostile to Ukraine. It celebrates the death of anyone on the list by writing "eliminated" in red across their photo. Ukrainian writer and historian Oles Buzina and politician Oleg Kalashnikov were both murdered after Mirotvorets declared them enemies.
NBC News correspondent Keir Simmons, adult film star Eva Elfie, and Kazakh President Kassym-Jomart Tokayev are among the public figures to have been blacklisted by the site for their supposed transgressions against Ukraine.
Kiev's Western backers have largely turned a blind eye to Mirotvorets, which has been operating since August 2014.
Kim arrived in Russia for an official state visit this week and has visited several locations in the country's Far East. His itinerary included talks with Russian President Vladimir Putin. The North Korean leader reiterated a pledge to support Moscow in its fight against "imperialism."
You can share this story on social media: