US vice president 'doesn't do much' – Pelosi
The former House Speaker hesitated to say Kamala Harris was the "best" running mate for Joe Biden in 2024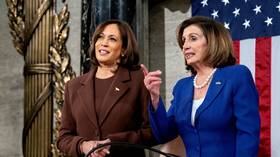 Former US House Speaker Nancy Pelosi has stated that the country's vice president doesn't get to do much. Her comments came in response to a question about whether current VP Kamala Harris was the best fit for Joe Biden in the 2024 US presidential elections.
Speaking with CNN's Anderson Cooper on Wednesday, Pelosi was asked to give her opinion on Harris and her performance in the White House. In response, the congresswoman touted Harris's political acumen and persuasive abilities.
"But do you think she is the best running mate, though?" Cooper asked.
Pelosi responded that the only thing that mattered was for Joe Biden to believe her to be, noting that Harris was "very politically astute" and "consistent with the president's values."
"She's the vice president of the United States. And people say to me, 'Well why isn't she doing this or that?' I say, 'Because she's the vice president.' That's the job description. You don't do that much," Pelosi said.
However, the congresswoman also conceded that Harris had performed the job's duties – limited though they may be – representing the US on the world stage, and being a "source of strength" in the administration.
Pelosi's statement comes as speculations about the VP's performance and possible replacement have been persistent since she took office in Biden's administration. According to polling data, her approval ratings have hovered around 40% since October 2021, while dissatisfaction has consistently grown, sitting at 59% in the latest YouGov survey published earlier this month.
A Reuters report back in March also suggested that Biden himself was frustrated with Harris, despite publicly praising her. According to anonymous former White House officials quoted by the outlet, Harris is often unwilling to take on certain tasks due to a "fear of messing up," and Biden did not see her as "somebody who takes anything off his plate."
Meanwhile, several Hollywood actors and political donors have also reportedly urged Biden to drop Harris as his vice president and choose a new running mate in the 2024 elections, according to a CNN report in March.
At the same time, Democratic Party leaders have apparently been warned that if Joe Biden drops out of the next presidential race, any white Democrats who consider running against Harris in the primaries would be seen as racist by women and people of color within the party, according to an NBC News report earlier this month.
You can share this story on social media: