Russia has 'overcome sanctions' – NYT
Moscow is churning out more missiles today than before NATO nations tried to cripple output, the media outlet has reported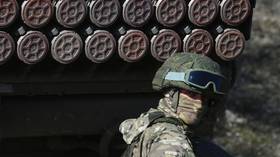 Russia has defied Western sanctions and export controls intended to cripple its military firepower, ramping up missile production to even higher levels than it achieved before the Ukraine conflict began, the New York Times has reported.
Although the sanctions curtailed Russian missile output for approximately six months after Moscow launched its military offensive against Kiev in February 2022, the nation's defense contractors later managed to restore and even increase their production capacity, the newspaper said on Wednesday, citing unidentified US officials.
The manufacturing feat has left Ukraine "especially vulnerable to intensified attacks in the coming months," including possible strikes on energy infrastructure in the autumn and winter months, the report added. US officials, who spoke to the newspaper on condition of anonymity, conceded that Russia's military industrial complex had overcome Western efforts to stymie production.
The officials claimed that Moscow had obtained scarce components through an "extensive smuggling network," routing them through such countries as Armenia and Türkiye. Part of the problem is that some of the materials aren't specific to the defense industry and therefore don't raise red flags.
"One of the challenges for the US government is that Russia does not need higher-end chips that are easier to track, but commoditized chips that can be used in a wide range of things, not just guided missiles," the newspaper said.
Russia has doubled its production of missiles and artillery shells to as many as 2 million a year, achieving higher output than the combined capacity of Ukraine's many Western backers, according to the report. Ukrainian officials warned in June that Russia had achieved even larger increases in production of Kalibr and Kh-101 missiles, boosting output as much as fourfold. However, US officials claimed that Russian ammunition producers hadn't been able to keep pace with the rate of artillery firing in the conflict's first year, which amounted to around 10 million shells.
Russia also is overcoming Western sanctions economically. The country's GDP is on track to grow by more than 2% this year after contracting by 2.1% – far less than the 11.2% drop predicted by the World Bank – in 2022. "We have emerged from the crisis, and our prospects for rapid development are good by today's standards," Kremlin spokesman Dmitry Peskov said last month.
You can share this story on social media: