Vietnam and US announce new strategic deal
The two nations elevated bilateral ties to the highest possible level and signed several major investment and trade agreements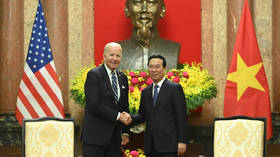 Vietnam and the US have agreed to dramatically upgrade their bilateral relations and strengthen defense cooperation, while hailing several major deals worth billions of dollars. The announcement comes amid strained relations between both Hanoi and Washington with China.
In a statement released on Monday following a meeting between US President Joe Biden and Vietnamese leader Nguyen Phu Trong, the White House said that the two countries elevated their relations to 'Comprehensive Strategic Partnership' status, the highest tier in Hanoi's hierarchy of bilateral ties, "for the purposes of peace, cooperation, and sustainable development."
On security, the US and Vietnamese leaders welcomed "further cooperation in defense industry and defense trade in accordance with each side's conditions," according to the statement. In addition, the US said that it "is committed to continuing to assist Vietnam to develop its self-reliant defense capabilities."
The high-level meeting produced several major US-Vietnamese deals. Vietnam Airlines signed a $7.8 billion agreement to purchase 50 Boeing 737 passenger aircraft, which the White House said would support more than 30,000 jobs in the US.
Washington and Hanoi also entered into a new chip partnership with Vietnam, which Washington said would help support "resilient semiconductor supply chains for US industry, consumers, and workers."
US-based Amkor Technology, which specializes in the semiconductor industry, is set to launch operations at a factory in Vietnam in October 2023, with total investment estimated at $1.6 billion. Two other US-based technology companies – Marvell Technology and Synopsys – will also set up facilities in Vietnam.
The historic rapprochement between the US and Vietnam comes amid rising tensions between Washington and China, with officials from both countries trading accusations of escalation. Meanwhile, relations between Hanoi and Beijing have been marred by a territorial dispute, with Vietnam frequently criticizing its northern neighbor for what it regards as violations of its sovereign waters in the South China Sea.
While visiting Vietnam on Sunday, Biden said he "does not want to contain China" but rather aspires to make sure that we have a relationship that "is on the up and up squared away."
You can share this story on social media: