'I don't want to contain China' – Biden
The US leader says his recent meeting with China's premier was "not confrontational"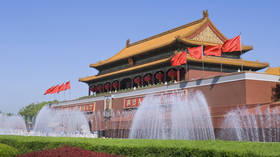 US President Joe Biden has said that he does not want to "contain China," and revealed that he had a meeting with Beijing's second-highest official at the G20 summit.
"I don't want to contain China," Biden told reporters at a news conference in Hanoi, Vietnam on Sunday. "I just want to make sure that we have a relationship with China that is on the up and up squared away, everybody knows what it's all about."
The US president revealed that he had spoken with Chinese Premier Li Qiang on the sidelines of the G20 summit in New Delhi, India, which wrapped up on Sunday. Biden claimed they discussed "stability," adding that the conversation "wasn't confrontational at all."
Beijing has so far not commented on the matter. Li urged G20 members on Saturday to work together in the spirit of "unity instead of division, cooperation instead of confrontation, and inclusion instead of exclusion."
Relations between the US and China have deteriorated significantly in recent years, with diplomats on both sides trading belligerent rhetoric and accusations of escalation. At a meeting in Japan in May, Washington and other G7 members accused Beijing of attempting to "distort the global economy" and intimidate Taiwan.
China has urged the US and its allies to "abandon the Cold War mentality," and condemned the sale of American weapons to Taipei. Beijing has also said that diplomatic contacts between the US and Taiwanese politicians violate the One-China policy and constitute meddling in its domestic affairs.
You can share this story on social media: