Biden aide intervenes to end rambling press conference (VIDEO)
The US president was cut off by his own press secretary as he discussed a meeting with a top Chinese official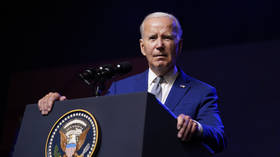 White House Press Secretary Karine Jean-Pierre abruptly ended a news conference by US President Joe Biden on Sunday, cutting the president off mid-sentence as he rambled about "the third world" and his conversation with Chinese Premier Li Qiang.
Biden took a number of scheduled questions from the press while on a visit to the Vietnamese capital of Hanoi, before telling reporters that he was "going to bed." However, Biden kept answering additional questions, including on his talk with Li at the G20 summit in India on Saturday.
"It wasn't confrontational at all," Biden said. "We talked about making sure that the third world…the, uh, the, uh, the southern hemisphere has access to changing…"
As Biden continued to mumble, Jean-Pierre announced that "this ends the current press conference." After attempting to answer another question, Biden turned around and walked off stage.
WATCH: Joe Biden's staff cuts off a rambling Joe Biden mid-sentence and abruptly ends his news conference.I have never seen this occur with any other president. pic.twitter.com/LqvW2VsESH

— Andrew @ Don't Walk, RUN! (@DontWalkRUN) September 10, 2023
Biden's press conferences are typically tightly managed by his aides, with the president handed cue cards and told which journalists to turn to for questions. Nevertheless, Biden still occasionally leaves the stage mid-sentence, often visibly confused and guided by his staff.
According to a recent Wall Street Journal poll, 73% of all voters think that the 80-year-old Biden is too old to serve as president, while 60% believe he lacks the mental capacity for the position. While Republicans have repeatedly hammered Biden over his apparent cognitive decline, Democrats are increasingly concerned about the president's health too. According to an NBC News survey in June, 43% of Democrats said that they had moderate to major concerns about Biden's health, up from 21% in 2020.
Biden's trip to Vietnam came as the US attempts to strengthen its ties with more Asian nations in a bid to counter Chinese influence in the region. On Sunday, Biden and Vietnamese General Secretary Nguyen Phu Trong announced a bilateral trade and investment deal, which included measures to boost semiconductor manufacturing and research in Vietnam.
You can share this story on social media: