Lula promises to ignore ICC arrest warrant for Putin
The Brazilian leader says the Russian president will not be detained under his watch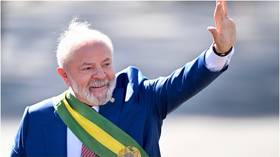 Brazil will ignore the International Criminal Court's arrest warrant for Vladimir Putin, President Luiz Inacio Lula da Silva has said. He added that the Russian president can visit his country without fear of detention.
"I believe that Putin can easily [go] to Brazil," Lula told Indian website Firstpost on the sidelines of the G20 summit in New Delhi. "What I can say to you is that if I'm president of Brazil, and he comes to Brazil, there's no way he will be arrested."
In March 2023, The Hague-based court issued warrants for Putin and Maria Lvova-Belova, Russia's children's rights commissioner, for alleged "unlawful deportation and transfer" of children.
Moscow does not recognize the authority of the ICC and has denied the allegations, insisting that it was evacuating children to safety during its armed conflict with Ukraine. Nevertheless, Putin ultimately chose not to travel to South Africa, a party to the ICC, for a BRICS summit in August, opting instead to participate in the event remotely.
Speaking to Firstpost, Lula reiterated that Brazil does not want to "participate in the war efforts," echoing his government's decision against supplying weapons to Ukraine or imposing sanctions on Russia. He argued that the G20 is "not the appropriate forum" to discuss the conflict and suggested that it should instead be addressed at the UN General Assembly later this month.
"That's the place for us to try to discuss peace. That's the place for us to call Putin and [Ukrainian President Vladimir] Zelensky [to] a negotiation table because no one wants war. Everybody is against war. We want peace," Lula said. He praised the joint declaration adopted by G20 leaders on Saturday, which acknowledged the different positions on the Ukraine crisis, without blaming any particular side.
You can share this story on social media: