NATO member admits using tanks from museums to train Ukrainians
Denmark confirmed it has delivered a batch of heavy armor to Kiev, although one expert warned it could "quickly become scrap"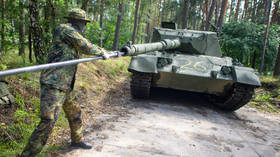 Denmark has admitted to using museum exhibits to train Ukrainian crews on German-made Leopard 1 tanks. A statement published on Friday said at least six heavy armor pieces were borrowed from several museums to meet training needs earlier this year.
Copenhagen struck a deal with the Netherlands and Germany in February to jointly buy some 100 Leopard 1A5 tanks for Kiev. The project also involved training for Ukrainian crews.
Denmark operated Leopard 1A5 tanks until 2005. Copenhagen sold some 100 of them to German company FFG in 2010, while some of the heavy equipment pieces ended up in museums. The Danish military then decided to borrow them back to begin training immediately after the decision to supply the tanks to Ukraine was taken, the statement said.
The Danish military confirmed on Friday that it had provided its first batch of Leopard 1 tanks to Kiev. Ten heavy equipment pieces are already in Ukraine, the statement said, adding that "more are on the way."
"Together with Germany, Denmark supplies almost 100 tanks to Ukraine," Defense Minister Troels Lund Poulsen stated. According to the Danish military, the tanks needed renovation as they had "been idle for several years."
The announcement came just a day after a renowned German military expert expressed skepticism about the tanks' potential role on the battlefield. The heavy armor pieces might be "helpful" but would hardly be a "game changer," Ralph Thiele, a retired colonel who served with the Planning Staff of the German Defense Minister and the Private Office of the NATO Supreme Commander, as well as being the Chief of Staff at the NATO Defense College, told Swiss broadcaster SRF.
"Old Leopard tanks have some weaknesses, particularly the side protection," said Thiele, who currently chairs the German Political Military Society. He added that they are "easy to hit… on the side and their shooting quality is lower than that of the successor models."
The retired colonel also claimed that the tanks become "vulnerable" as soon as an enemy learns how to combat them. When asked if it could be said that the West was supplying "scrap metal to Ukraine," Thiele responded that "if one wants to put it mockingly, [then] yes." The military expert also noted that "if used incorrectly, even new systems can quickly become scrap."
You can share this story on social media: