Germany buys scrapped tanks for Ukraine
Berlin has acquired 49 Leopard 1 tanks from a Belgian arms dealer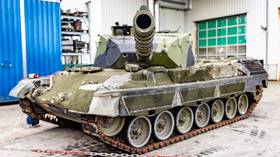 German defense giant Rheinmetall has purchased 49 mothballed Leopard 1 battle tanks from a Belgian arms dealer for use in Ukraine, a spokesperson for the company told The Guardian on Wednesday. The vehicles are reportedly in such poor condition that many will be suitable only for spare parts.
The spokesperson said that 30 of the tanks would be recommissioned and given to Kiev, with the rest presumably cannibalized for parts. A German government spokesperson said that they would form part of a military aid package announced by Defense Minister Oscar Pistorius during a NATO summit in Lithuania last month.
Belgian arms dealer Freddy Versluys announced the sale of the tanks on Tuesday, telling multiple media outlets that an unnamed European state had purchased them for an undisclosed price.
The Belgian government discussed buying the Leopards with Versluys earlier this year, but ultimately refused to pay the €500,000 ($549,000) per tank that he was asking. Belgian Defense Minister Ludivine Dedonder described the asking price as "unreasonable," considering Versluys had bought the tanks as "scrap metal."
Versluys bought the tanks for €37,000 each when they were being decommissioned by the Belgian government in 2014. Speaking to The Guardian earlier this year, he said that the aging vehicles were in poor shape, and needed "new engines, shock absorbers, fire control system, radar stations… the list can be continued."
While neither Rheinmetall nor Versluys have revealed the final price, Versluys wrote on LinkedIn that "we asked for a fair market price and someone was more than happy to take them."
Manufactured by Krauss-Maffei in West Germany, the Leopard 1 entered service in 1965, and was gradually retired from the 1990s onwards. Berlin has approved the delivery of more than 200 of these obsolete vehicles to Ukraine, around 80 of which it aims to supply by the end of the year.
Neither the Leopard 1 nor its successor, the Leopard 2, have made a significant impact on Kiev's battlefield fortunes. Ukraine's ongoing counteroffensive against Russian forces has cost Kiev 43,000 troops and 4,900 pieces of heavy weaponry in just two months, according to the Russian Defense Ministry. Dozens of Leopard tanks are included in the tally of losses, the ministry has said.
You can share this story on social media: