Yoga class mistaken for ritual mass killing
Police discovered that yogis practicing a 'corpse pose' were not, in fact, dead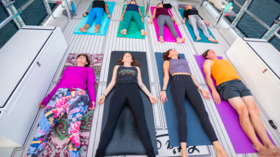 A yoga class in the English county of Lincolnshire was briefly thought to be the scene of a grisly "ritual mass murder" when members of the community alerted the police after mistaking a group of meditating yogis as being victims of a killing spree.
Five police cars arrived at the North Sea Observatory in Skegness on Wednesday evening after dog walkers raised the alarm to a group of seven people lying prone on the ground in a dimly lit room, with an eighth person walking around their apparently lifeless bodies.
However, unbeknownst to the alarm raisers, the group was practicing shavasana, sometimes known as the corpse pose – a position often used at the end of a yoga session in which people lie on their backs and slip into a deep meditative state.
"They reported to the police that they'd seen somebody walking around in a room lit up with candles and what looked like dead people lying all over the floor," yoga teacher Millie Laws told the Washington Post. "The couple thought it was some sort of ritual mass killing."
Lincolnshire Police later confirmed that an emergency call had been made at 8:56pm "with good intentions." The police added: "Officers attended, we're happy to report that everyone was safe and well."
The Seascape Cafe, which was hosting the yoga class at the North Sea Observatory, posted to social media on Thursday to thank the police for their prompt response to the scene. "Dear General Public," the statement said, "Please be mindful that the Observatory has lots of yoga classes happening in the evenings. We are not part of any mad cult or crazy clubs."
Speaking to the Washington Post in comments published on Friday, Laws said that she couldn't help but laugh at the idea that she had been briefly suspected of being responsible for what would have been one of the worst massacres in recent UK history.
"It's hilarious," the 22-year-old, who only moved to the town three months ago, reacted. "On the flip side, these people were managing to enter such a deep state of relaxation that – although it's awful to compare it to death – they look so relaxed and comfortable.
"I mean, you can say the medication worked, though it's definitely ironic they were in corpse pose," she said.
You can share this story on social media: