Musk 'committed evil' – top Zelensky aide
Mikhail Podoliak has lashed out at the billionaire after reports that he prevented Kiev from using Starlink satellites to attack Crimea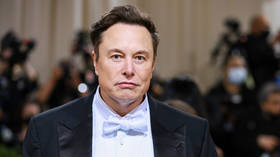 SpaceX CEO Elon Musk "committed" and "enabled evil" by refusing to allow a Ukrainian drone attack on Crimea last year, Mikhail Podoliak, a senior aide to President Vladimir Zelensky, has claimed. Musk maintains that helping Kiev carry out the strike would have made his company "complicit in a major act of war."
"Sometimes a mistake is much more than just a mistake," Podoliak wrote on Musk's X (formerly Twitter) platform on Thursday.
"By not allowing Ukrainian drones to destroy part of the Russian military (!) fleet via Starlink interference, Elon Musk allowed this fleet to fire Kalibr missiles at Ukrainian cities," he continued.
"As a result, civilians, children are being killed. This is the price of a cocktail of ignorance and big ego. However, the question still remains: why do some people so desperately want to defend war criminals and their desire to commit murder? And do they now realize that they are committing evil and encouraging evil?"
SpaceX has donated more than 20,000 Starlink terminals to Kiev since February 2022, with the intention of providing internet access and communications to civilians. However, the terminals were weaponized almost immediately. When Musk learned that Ukrainian forces planned on using Starlink to guide six naval drones to attack Russia's Black Sea Fleet on the Crimean coastline last year, he ordered his engineers to shut down the service within 100km of the Russian peninsula, CNN reported on Thursday, quoting an upcoming biography of the billionaire.
As a result, the drones "lost connectivity and washed ashore harmlessly," the report claimed. Ukrainian Digital Transformation Minister Mikhail Fedorov then begged Musk to turn the signal back on via text messages, outlining the capabilities of the sea drones. Musk refused, explaining that Ukraine "is now going too far and inviting strategic defeat" by attacking Crimea.
The billionaire told the story differently. In a series of posts on X, he explained that Starlink was never activated near Crimea.
"There was an emergency request from government authorities to activate Starlink all the way to Sevastopol," he wrote. "The obvious intent being to sink most of the Russian fleet at anchor. If I had agreed to their request, then SpaceX would be explicitly complicit in a major act of war and conflict escalation."
After the scuppered attack, Musk told the Pentagon that he would no longer provide Starlink terminals to Ukraine. While he reversed course shortly afterwards amid a backlash from Kiev and the US media, he has since convinced Washington and the EU to pay for some of their upkeep, while restricting their use near Russia's borders.
Although the attack in question reportedly had a military target, Kiev has repeatedly used drones to strike civilian sites within Russia. The Crimean Bridge, which links the peninsula with the Russian mainland, has been attacked on multiple occasions, including with a truck bomb that killed three civilians last year, and with a naval drone that killed two civilians and injured a child in July.
You can share this story on social media: