Palestinian leader accused of antisemitism over Holocaust comments
Mahmoud Abbas suggested that Adolf Hitler hated the Jews because of their involvement in usury, not their religion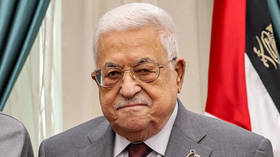 The US and EU have accused Palestinian President Mahmoud Abbas of making antisemitic remarks and distorting history, over his recent comments on the Holocaust and origins of European Jews.
The backlash followed a speech that Abbas gave to senior members of his Fatah Party in the Israeli-occupied West Bank in August, in which he insisted that Adolf Hitler "killed" Jews "because of their social role, and not their religion."
The Nazi German dictator "hated" them because they "were dealing with usury and money," the Palestinian president said, according to a translation by an Israeli-linked US think tank, the Middle East Media Research Institute.
"This was not about Semitism and antisemitism," he added, referring to the Holocaust, the murder of six million Jews by the Nazis in the 1940s.
Abbas also repeated his earlier claim that unlike their Middle-Eastern eastern counterparts, "the European Jews are not Semites. They have nothing to do with Semitism." Back in 2018, he suggested that ancestors of the European Jews were actually nomadic Turkic people known as the Khazars.
US Special Envoy to Combat Antisemitism Deborah Lipstadt took to X (formerly Twitter) on Wednesday to condemn the "hateful, antisemitic remarks" by the Palestinian leader and demand "an immediate apology," writing that he had "maligned the Jewish people, distorted the Holocaust, and misrepresented the tragic exodus of Jews from Arab countries."
US Ambassador to the UN Linda Thomas-Greenfield, meanwhile, claimed that besides being "hateful and antisemitic" the statements by Abbas "undermine prospects for a secure and peaceful future for Israelis and Palestinians."
The EU also joined the chorus of critics, saying in a statement that Abbas's remarks "trivialize the Holocaust and thereby fuel anti-Semitism, and are an insult to the millions of victims of the Holocaust and their families."
Abbas's spokesman Nabil Abu Rudeineh dismissed the accusations, saying that a "rabid campaign" has been unleashed against his boss in the West. Abbas's stance on the issue is "clear and documented, which is the complete condemnation of the Holocaust and the rejection of antisemitism," he insisted.
You can share this story on social media: