'Rigged' US election to blame for Ukraine conflict – Trump
The former president claims if he hadn't been cheated out of office Moscow would never have launched its operation against Kiev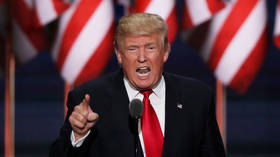 Former President Donald Trump has claimed that the Ukraine conflict would never have begun if the 2020 US elections hadn't been "rigged" and Joe Biden hadn't replaced him and taken office.
In an interview with American radio host Hugh Hewitt on Wednesday, Trump insisted that Russia would have never launched its military operation in Ukraine if he were still in the White House.
"Ukraine is so sad," Trump said. "[Putin] would have never done it if the election weren't rigged, our election. It was rigged and stolen. If that election wasn't rigged, if I were president, you would right now have millions of people living that are dead," a transcript of the former president's interview reads.
Trump went on to claim that, if he were still president, "Taiwan would never be talked about right now," and that he'd maintained close contact with both Russian President Vladimir Putin and Chinese leader Xi Jinping, even though they "were not close to him."
He also criticized the policies of Biden, who he described as "the most corrupt and incompetent president" and warned that his leadership could lead the world to a nuclear conflict that would result in World War III. "This man doesn't have a clue," Trump said.
Last month, the former president also claimed in an op-ed published by Newsweek that the Ukraine conflict was influenced in part by the infamous Russiagate investigation – an FBI probe into Trump's ties with Russia that was launched over allegations that he'd colluded with Moscow during his 2016 presidential campaign. A report by special counsel John Durham earlier this year found that the FBI should never have launched the probe, as it was based on biased sources.
Trump said the investigation came "at a critical moment when we should have been reducing tensions with Russia" and instead undermined relations with Moscow and ultimately stoked a "mass hysteria" that pushed Washington to launch a "proxy war" against Moscow.
In July, the former president suggested that that the US is in a "very stupid, dangerous position right now" because it does not have as many nuclear weapons as Russia. He insisted Washington should improve its relations with Moscow, claiming that "it's good to get along."
You can share this story on social media: