Canadian foreign worker program a 'breeding ground' for slavery – UN expert
The United Nations has called on Ottawa to guarantee the rights of tens of thousands of migrant workers who enter the country annually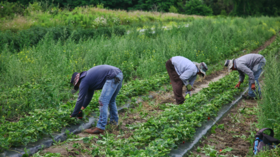 Canada's temporary foreign worker program, under which up to 60,000 people arrive in the country each year, is leading to modern forms of slavery, a United Nations expert has warned.
Following a two-week fact-finding visit to Canada, UN special rapporteur for contemporary forms of slavery, Tomoya Obokata, said on Wednesday that he was "deeply disturbed by the accounts of exploitation and abuse" he was informed of by migrant workers.
"Employee-specific work permit regimes, including certain Temporary Foreign Worker Programs (TFWPs), make migrant workers vulnerable to contemporary forms of slavery, as they cannot report abuses without fear of deportation," Obokata said in a statement posted to the UN Human Rights office website.
The controversial program sees between 50,000 to 60,000 foreign laborers arrive in Canada each year, but has for several years faced accusations of systemic exploitation. Foreign workers across various sectors, including agriculture and meat processing, have complained of sub-par conditions, as well as having only limited recourse to address instances of abuse.
The UN investigation comes a little over a year after a group of Jamaican farm-workers complained in a letter to their country's labor minister that work they were being compelled to perform at two Ontario farms was akin to "systemic slavery." The letter detailed accusations that they were "exposed to dangerous pesticides without proper protections, and our bosses are verbally abusive, swearing at us."
Canada's foreign worker scheme permits employers to hire laborers from Mexico and eleven Caribbean nations for up to eight months of the year.
In his statement, the special rapporteur also called on Canada to offer a "clear pathway to permanent residency for all migrants, to prevent the recurrence of abuses." He added that foreign workers "have valuable skills that are critical to the Canadian economy" and called upon lawmakers to push forward legislation to protect the rights of overseas workers.
A 2014 study from the Canadian Medical Association Journal Open said that 787 migrant farm workers in Ontario were repatriated to their home countries after suffering injuries in the course of their work – some of whom were transported with little prior notice, and without having been granted access to medical treatment.
You can share this story on social media: