UK refuses to replace Challenger 2 tank destroyed in Ukraine
The British vehicle was hit by Russian artillery and then hit again as troops tended to it, UK Secretary of Defence Grant Shapps says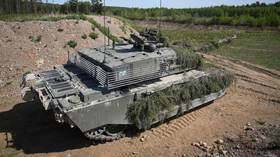 UK's newly-appointed Secretary of Defence Grant Shapps has acknowledged the loss in Ukraine of the first of 14 British-made Challenger 2 main battle tanks supplied by London to Kiev amid its conflict with Moscow.
Video footage appeared on social media on Monday showing what looks like a Challenger 2 tank burning on a battlefield in Zaporozhye Region. More evidence of the destruction of the British armored vehicle was provided by drone footage seen on Russian Telegram channels the next day.
"I can confirm that is correct. It may be the first loss [of a Challenger 2 tank] as far as we're aware," Shapps said during a live appearance on Sky News on Wednesday.
"We accept that in the war zone there can be material losses, which is what's happened here," he added.
The defense secretary detailed how the ill-fated Challenger 2 had been destroyed, saying that "it was hit by Russian artillery and, actually, as they [the Ukrainian servicemen] were trying to put out a fire, it was hit again."
Shapps claimed that there were six Ukrainian soldiers operating the tank and that all of them survived when it was struck, which, according to him, "is a great testament to that British kit."
When asked if the UK is planning to provide Kiev with a replacement for the lost tank, the defense secretary simply replied "no."
In early 2023, amid the depletion of Ukraine's stocks of Soviet-era hardware, the West promised to supply Kiev with dozens of advanced tanks such as the German Leopard 2, the British Challenger 2 and the American Abrams M1.
The Leopard 2s have been actively used by the Ukrainian military since the launch of its counteroffensive three months ago, with a number of those tanks being destroyed by the Russian forces.
The Challenger 2s had arrived in Ukraine months ago but, until recently, there were no reports of them being deployed on the battlefield.
As for Abrams M1s, these have yet to be supplied to Kiev, with informed sources telling Politico last week that ten out of the 31 tanks promised by Washington would arrive in the country in a matter of weeks.
Russia has repeatedly warned that deliveries of more sophisticated weapons to Ukraine by the US, the UK or the EU could cross its 'red lines' and result in a major escalation of hostilities. Moscow also argues that the provision of arms, intelligence-sharing and the training of Kiev's troops already means that Western nations have de facto become parties to the conflict.
You can share this story on social media: