Indonesia warns against 'destructive rivalry' in Asia
Nations in the Asia-Pacific should never become the proxies of foreign powers, President Joko Widodo said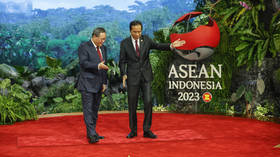 Indonesian President Joko Widodo has stressed the need for unity within ASEAN, saying that the Southeast Asian economic bloc must maintain good ties for the sake of regional stability.
Speaking at the group's summit in Jakarta on Wednesday, President Widodo called on member states to "work in concert to achieve a fair and mutually beneficial cooperation," urging against feuds and strife between neighbors.
"ASEAN has agreed to not be a proxy to any powers. Don't turn our ship into a battleground for rivalry that is destructive," he said. "We, as leaders, have to ensure this ship keeps moving and sailing and we must become its captain to achieve peace, stability, and prosperity together."
The Indonesian president called for a "long-term tactical strategy," saying ASEAN members should devise a plan for cooperation that is "relevant and meets people's expectations."
Widodo's comments come soon after Jakarta's defense chief, Prabowo Subianto, visited the US capital for talks with his American counterpart. During the trip, the Pentagon issued a "joint press statement," which was attributed to Subianto and critical of both Russia and China. Subianto, however, later distanced himself from the missive and insisted that Indonesia seeks good relations with both countries.
"There is no joint statement and no press conference. What is important for me to underline is that our relationship with China is very good. We respect each other, we already have mutual understanding. I conveyed that in the US," Subianto said. "We are close friends with China, we respect America, and we seek friendship with Russia."
The US and Russia have been locked in a standoff over Ukraine since Moscow launched its military operation in February 2022. At the same time, tensions continue between Washington and Beijing over issues ranging from trade to Taiwan.
The defense minister also discussed plans to visit both Beijing and Moscow in the coming months, further underscoring Indonesia's friendlier stance toward the two powers.
Founded at the height of the Cold War, the ASEAN bloc is made up of 10 member states and encompasses some 600 million people. The organization places a major focus on economic development, but also maintains a network of alliances and partnerships to foster diplomacy in the region.
ASEAN members will meet again later this week for their East Asia summit, which will be attended by top officials from Russia, China, India, Japan and the United States.
You can share this story on social media: