Indonesia rubbishes Pentagon's 'joint statement' on China and Russia
Jakarta stressed its "non-aligned" status and said it seeks good ties with all countries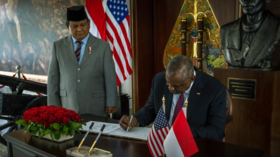 Indonesia's military chief has denied issuing any shared statements with his US counterpart during a visit to Washington last week, after the Pentagon published a "joint" press release attributed to Jakarta which criticized Moscow and Beijing.
Speaking to reporters on Thursday, Defense Minister Prabowo Subianto said the US statement does not reflect his country's positions, stating that Indonesia seeks friendly relations with both Russia and China.
"There is no joint statement and no press conference. What is important for me to underline is that our relationship with China is very good. We respect each other, we already have mutual understanding. I conveyed that in the US," he said, adding "We are close friends with China, we respect America, and we seek friendship with Russia."
The official went on to announce plans to visit Beijing and Moscow in the coming months, voicing hopes that Jakarta could serve as a "bridge" between rival states.
The Pentagon missive, published on August 24 was titled 'United States DoD and Indonesia MoD Joint Press Statement' and took on a different tone. It claimed that both the US and Indonesia "shared the view that the People's Republic of China's (PRC) expansive maritime claims in the South China Sea are inconsistent with international law." It also went on to "jointly" condemn Moscow's actions in Ukraine, demanding a "complete and unconditional withdrawal" of Russian forces.
Though Indonesia's Defense Ministry noted Subianto's meetings with Pentagon head Lloyd Austin, it made no mention of any joint statement with Washington, and offered no comments about Russia or China.
Beijing was quick to jump on the American statement, with China's embassy in Jakarta claiming the remarks had not been approved by Indonesian officials beforehand.
"We're informed by the Indonesian side that what the US side described is not true. In fact, no such content can be found in the press release by the Indonesian side at the same meeting," the embassy told reporters last weekend, slamming US efforts to "to sow discord and stir up trouble."
During Subianto's trip to the US, the two countries agreed to boost military cooperation, including joint war games and additional US weapons sales. The Pentagon further said Washington would help Jakarta's military modernization drive, proposing "fighter aircraft upgrades, new multi-role fighter aircraft, and additional fixed and rotary wing transport aircraft," among other gear.
Highlighting the growing military ties, Indonesian officials announced a deal to purchase 24 Sikorsky S-70M Black Hawk transport helicopters from US arms giant Lockheed Martin last week, soon after signing a major contract with Boeing for two-dozen F-15 fighter jets. Jakarta is working to revamp its air fleet, which currently operates systems from several different countries, including both US- and Russian-made fighter jets.
You can share this story on social media: