Doctor provides update on top US senator's health scares
The Capitol physician said Mitch McConnell did not have a stroke or seizure when he froze up in front of cameras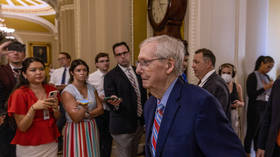 Mitch McConnell, the top-ranking Republican in the US Senate, apparently did not suffer a stroke or seizure during a "brief episode" last week in which he froze up in front of reporters in his home state of Kentucky, the attending physician for Congress has said.
"There is no evidence that you have a seizure disorder or that you experienced a stroke, TIA (transient ischemic attack) or movement disorder, such as Parkinson's disease," Dr. Brian Monahan wrote on Tuesday in a letter to McConnell that the senator's office released publicly. He added that there would be no changes to the recommended treatment protocols as McConnell continues to recover from a concussion that he suffered earlier this year.
Monahan based his assessment on brain magnetic resonance imaging (MRI), an electroencephalogram (EEG) test, and consultations with neurologists who evaluated the senator. The tests followed two recent health scares, including the Kentucky incident and a similar freeze-up in July at the Capitol.
McConnell, 81, stopped speaking for more than 30 seconds after a reporter asked him last week whether he planned to seek re-election in 2026. During the earlier incident at the Capitol, he froze mid-sentence for about 20 seconds before being ushered away by other Republican lawmakers. He later returned to the press conference and told reporters that he had felt "lightheaded" but that he was "fine."
The veteran politician has served in the Senate since 1985 and has been the Republican leader in the upper chamber of Congress since 2007. He was hospitalized for a week and sidelined from work for several weeks after suffering a concussion and a fractured rib during a fall outside a Washington hotel in March.
McConnell's health scares have heightened concerns about the fitness of elderly US politicians to do their jobs. A Wall Street Journal poll late last month found that 73% of US voters believe President Joe Biden is too old to run for re-election, while six in ten say he is mentally unfit to fulfil his duties.
Senator Dianne Feinstein (D-California), 90, missed months of work earlier this year while suffering from shingles and has appeared disoriented on multiple occasions since returning to the Capitol.
"Right now, the Senate is the most privileged nursing home in the country," Republican presidential candidate Nikki Halley said last week in a Fox News interview. "We need to start getting new faces, new voices, younger generations involved in our government. And we need to have everybody else understand when it's time to go."
You can share this story on social media: