Top US Republican suffers another 'health episode'
Senator Mitch McConnell froze at a press conference in Kentucky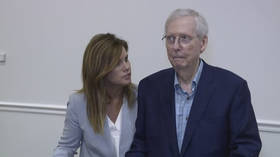 Senate Minority Leader Mitch McConnell, a Kentucky Republican, froze up during a press conference on Wednesday and had to be led away by aides. His spokesperson later claimed the 81-year-old "felt momentarily lightheaded."
McConnell had been speaking at the Northern Kentucky Chamber of Commerce government forum in Covington for about 20 minutes before the episode, according to the local TV station WLWT. A video one of their reporters posted on X, formerly Twitter, shows McConnell's eyes rolling up and his mouth hanging open for a moment.
An aide walked up and asked the senator if he was all right. Then she winked at the reporters and said, "I'm sorry y'all we're gonna need a minute." McConnell managed to focus and respond, softly, to another question but then seemed not to hear the next one.
A second aide came up and helped him off the podium, where he "caught himself as if he were about to fall as he approached a chair," according to WLWT.
McConnell "felt momentarily lightheaded and paused during his press conference today," his spokesperson said in a statement afterward. The senator "feels fine" but will consult a doctor prior to his next event, the spokesperson added.
It was the second such episode in just over a month for the top Republican in the US Senate. He had frozen mid-sentence during a press conference on Capitol Hill in late July, prompting speculation of a partial seizure or a stroke.
The 81-year-old Kentuckian has also suffered three falls just this year, the most serious of which resulted in a concussion and a broken rib, putting him in recovery for six weeks.
McConnell leads the Republican minority in the US Senate, and has been on friendly terms with the ruling Democrats – including President Joe Biden, who was his Senate colleague for over 20 years.
Asked about McConnell's health, Biden told reporters at the White House that he intended to call the senator later in the day, describing him as "a good friend, no joke." Biden is 80 and has had problems walking and speaking as well, though the White House has insisted he's in good health.
You can share this story on social media: