EU plans to take advantage of Xi and Putin's G20 absence – Bloomberg
Brussels is reportedly planning to endorse the African Union's bid to become a permanent member of the group, the outlet claims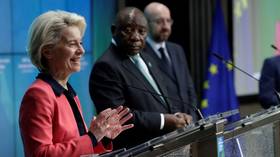 The EU intends to endorse the African Union's bid to become a permanent member of the G20 at the group's upcoming summit in New Delhi, people familiar with the matter have told Bloomberg.
With Russian President Vladimir Putin and his Chinese counterpart Xi Jinping both announcing that they're going to skip the event in New Delhi next week, Brussels is looking "to seize the moment... to show that it is serious about redefining its partnership with Africa, despite the troubled legacy of colonialism," the news outlet claimed in a report on Tuesday.
According to the sources, the bloc's officials are planning to organize a "mini-summit" with the African Union (AU), which incorporates 55 of the continent's countries, on the sidelines of the G20 event on September 9, the first day of the two-day gathering.
European Commission President Ursula von der Leyen, European Council President Charles Michel and German Chancellor Olaf Scholz will be among those representing the EU at the meeting, the sources said.
The participants on the African side will reportedly include Cyril Ramaphosa, the President of South Africa, which is the only African nation on the G20, as well as the leaders of Egypt, Nigeria and the Comoros, which is currently chairing the AU.
Endorsing the AU's bid to become a permanent G20 member is seen in Brussels as one of the main goals of the "mini-summit," the sources said.
Permanent membership – instead of its present status as an "invited international organization" – would place the AU on the same level as the EU within the G20. The move is aimed at giving Africa "a stronger voice" in decisions by international organizations that affect the continent, Bloomberg wrote.
Russia is also interested in the African Union becoming a member of the G20, with Foreign Minister Sergey Lavrov saying in June that its going to happen soon, and "with active backing" from Moscow.
Other issues to be discussed during the "mini-summit" in New Delhi include the effect of the Ukrainian conflict on global food security, the reform of the global financial architecture, improving conditions for investments in Africa, and the situation in the Sahel region, according to Bloomberg's sources.
Both Russia and China have been actively boosting diplomatic and economic ties with Africa recently. An announcement was made at the BRICS summit in Johannesburg in July that two African nations – Egypt and Ethiopia – would be among the six new member states to officially join the group from January 2024.
In July, a high-profile Russia-Africa Summit took place in St Petersburg, when host President Putin said that the two had agreed to establish "a permanent mechanism" to cooperate on security issues – including the fight against terrorism and extremism – food security, information technology, and climate change, among other things. Russia and Africa are also going to "combat neo-colonialism, the practice of applying illegitimate sanctions, and attempts to undermine traditional moral values," the president added.
You can share this story on social media: