Modi outlines New Delhi's G20 priorities, says 'every voice' matters
The Indian leader said the upcoming summit will focus on the climate and the debt crisis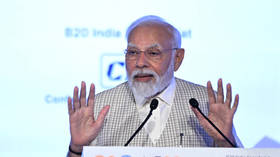 India's presidency in the G20 is a testament to its growing role in the world, Prime Minister Narendra Modi said ahead of the event. Once perceived as merely a huge consumer market, India is now seen as a global player capable of tackling challenges from the pandemic to larger crises faced by humanity, he added.
In an interview with the PTI news agency released on Sunday ahead of the G20 summit, which New Delhi will host next weekend, Modi issued a stark warning against "irresponsible" financial policies and advocated for a steadfast commitment to financial discipline. He stressed that while populist measures may yield short-term political gains, the long-term social and economic consequences can be devastating.
Modi's comments came as he discussed the global debt crisis, which he acknowledged as a pressing concern, particularly for developing nations. As leaders from around the world prepare for the G20 summit, Modi highlighted the growing importance of financial discipline, especially among countries grappling with debt crises. He noted that he has urged state governments to prioritize financial responsibility, recognizing that sound financial policies are critical for a nation's stability and growth.
Emphasizing inclusive growth, one of the priorities of India's G20 presidency, Modi said that the GDP-centric view of the world is now shifting to a human-centric one. "Like a new world order was seen after World War II, a new world order is taking shape post-Covid. The parameters of influence and impact are changing and this needs to be recognized," he said, adding that New Delhi's 'Sabka Saath Sabka Vikas' model, which means 'development for all', has shown the way in India and can also be a guiding principle for the "welfare of the world."
"Irrespective of the size of the GDP, every voice matters," Modi said as he underscored efforts towards greater inclusion for the Global South, especially the African continent, in global affairs.
The prime minister also took the opportunity to reflect on India's recent political stability, noting that it had paved the way for significant reforms in various sectors, including the economy, education, banking, and finance. He attributed this period of growth to a stable government with predictable policies and a clear vision for the nation.
Modi unveiled his ambitious vision for India over the next two decades, envisioning a developed, inclusive, innovative, and corruption-free nation. He pledged that by 2047, India would stand among the world's developed countries, with an even more inclusive and innovative economy, improved health and education outcomes, and the eradication of corruption and casteism.
Celebrating India's rapid ascent from having the tenth largest economy to the fifth largest in less than a decade, Modi said: "For a long time, India was perceived as a nation of over 1 billion hungry stomachs. But now, India is being seen as a nation of over 1 billion aspirational minds, more than 2 billion skilled hands, and hundreds of millions of young people."
When asked whether the G20 gathering would likely end with a consensus and a common declaration adopted given the differences in approaches to the issue of including the Ukraine conflict in the G20 agenda, Modi stopped short of commenting on the issue directly.
However, he reiterated New Delhi's stance: "There are many different conflicts across various regions. All of them need to be resolved through dialogue and diplomacy. This is our stand on any conflict anywhere. Whether as G20 president or not, we will support every effort to ensure peace across the world," the Indian leader said. "We have repeatedly emphasized that a divided world will find it difficult to fight common challenges," he added.
The G20, a grouping of the world's largest economies representing around 85% of global GDP and over 75% of global trade, comprises 19 countries (Argentina, Australia, Brazil, Canada, China, France, Germany, India, Indonesia, Italy, Japan, South Korea, Mexico, Russia, Saudi Arabia, South Africa, Turkey, the US, and UK) and the EU.
You can share this story on social media: