Elon Musk threatens to sue Jewish lobby group
The owner of X (aka Twitter) claims the Anti-Defamation League tried to kill his social media platform with bogus anti-Semitism allegations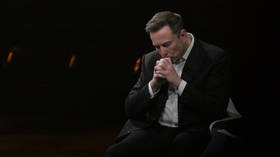 Billionaire Elon Musk has upped the ante in his feud with the Anti-Defamation League (ADL), suggesting that he may have to sue the Jewish civil rights group for trying to destroy his X (formerly Twitter) social media platform with fraudulent claims of anti-Semitism.
"To clear our platform's name on the matter of anti-Semitism, it looks like we have no choice but to file a defamation lawsuit against the Anti-Defamation League," Musk said on Monday in an X post. "Oh, the irony," he added.
The Tesla and SpaceX CEO, who bought Twitter last year for $44 billion and later renamed it X, blamed the ADL for a 60% drop in advertising revenue. He said the ADL had pressured advertisers not to use the platform by falsely associating X and its new owner with anti-Semitism. "They almost succeeded in killing X/Twitter," he wrote.
Musk's latest comments come two days after he suggested that he might poll X users on whether to ban the ADL from his platform. He posted the idea in response to a message from conservative Dutch activist Eva Vlaardingerbroek, who declared that people are fed up with "labeling everything we don't like as hateful/racist/dangerous/far-right."
She added that people are no longer afraid of the ADL's intimidation tactics, claiming "Your labels have lost their power."
The social media campaign to ban the ADL started after the group's leader, Jonathan Greenblatt, met last week with X CEO Linda Yaccarino to discuss "rampant hate speech" on the platform. The ADL has accused X of failing to enforce its content moderation policies since Musk took over.
Musk, who has vowed to make X a bastion of free speech amid heavy censorship of conservative voices on other platforms, said he was "against anti-Semitism of any kind." He quipped that if he wins his lawsuit, he will insist that the ADL drop the "anti" portion of its name, meaning it would be called the Defamation League.
Founded more than a century ago, largely to stop attacks on Jews, the ADL now describes itself as the "leading anti-hate organization in the world." However, the group has been criticized for promoting critical race theory and other far-left ideologies in recent years.
The ADL has been sued for defaming people with false allegations in the past. In fact, a Colorado couple won a $10.5 million verdict against the group in May 2000. A year earlier, the ADL settled a suit in which it was accused of illegal spying. Cartoonist Ben Garrison sued the ADL in 2020, saying the activist group had defamed him by falsely portraying him as anti-Semitic and racist.
You can share this story on social media: