Netanyahu wants to deport migrant rioters
The Israeli leader has called a special meeting on expelling Eritreans who clashed violently in Tel Aviv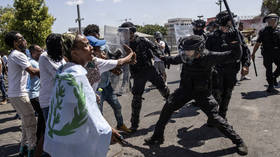 Israeli Prime Minister Benjamin Netanyahu has convened a special meeting of his cabinet to examine ways to immediately expel the Eritrean migrants who were involved in a violent clash with each other on Saturday in Tel Aviv.
"We want harsh measures against the rioters, including the immediate deportation of those who took part," Netanyahu said in a ministerial meeting called on Sunday in response to the violence. He asked that cabinet officials provide him with plans for removing "illegal infiltrators."
Dozens of people were injured when rival groups of Eritreans brawled near the east African country's embassy in south Tel Aviv. Supporters of the Asmara regime reportedly attacked migrants who had broken through a police barricade during a festival at the embassy.
The Times of Israel reported on Saturday that over 150 civilians were injured, including about 15 who were hospitalized in critical condition, and around 30 police officers were wounded. Eritreans armed with rocks and pieces of wood and metal reportedly fought with each other and damaged shop windows and cars. Riot police fired tear gas, stun grenades and live rounds as horse-mounted officers tried to force the rioters away from the embassy.
Several of Netanyahu's ministers issued statements decrying the violence. "Israel is a country of law," Culture Minister Miki Zohar said. "Those who riot in the streets, destroy shops and assault police officers must be punished severely and be deported immediately. Everyone who resides here must respect our laws."
One challenge for Israel's cabinet is that under international law refugees can't be deported to a country where their lives may be at risk. Netanyahu's government rejects the asylum claims of most African migrants and refers to them as "illegal infiltrators," as the prime minister did on Sunday.
Netanyahu and some of his ministers have blamed Israel's high court for blocking efforts in recent years to force migrants to leave the country. "Saturday's riots were only a promo for what awaits us if we don't return the infiltrators to their homelands," Finance Minister Bezalel Smotrich said in a statement. "The High Court of Justice is responsible for these riots. That's why we're leading amendments to the legal system that will allow elected officials to make decisions and execute them."
Justice Minister Yariv Levin agreed, saying, "We are fighting for the country to be Jewish and democratic, for the right of the residents of south Tel Aviv and Eilat to live safe lives, so that south Tel Aviv will not turn into the Wild West."
Saturday's celebration marked the 30-year anniversary of Eritrea's independence from Ethiopia. Similar festivals around the world have been marred by violence. A three-day event last month in Toronto was canceled after rival migrant groups brawled with each other.
You can share this story on social media: