Pope issues landmark pledge to China
Beijing has "nothing to fear" from the Catholic Church, the pontiff has suggested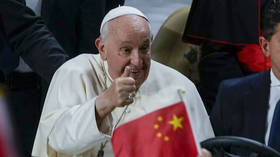 Pope Francis has declared that "governments and secular institutions have nothing to fear" from the Catholic Church's missions in Asia, in comments apparently directed at China. Addressing Catholics in Mongolia, the Pope met with a prominent Hong Kong cleric who offered to help the church make inroads with Beijing.
Speaking to clergy and lay workers in Ulaanbaatar on Saturday, the pontiff insisted that the Catholic Church's mission is not a political one.
"For this reason, governments and secular institutions have nothing to fear from the Church's work of evangelization, for she has no political agenda to advance, but is sustained by the quiet power of God's grace and a message of mercy and truth, which is meant to promote the good of all," he said, with Reuters noting that these comments were likely aimed at China rather than Mongolia, where the church enjoys friendly relations with the government.
While China is officially an atheist state, Catholicism is one of five major religions recognized by the ruling Communist Party. Relations between church and state are often tense, however. Religious schooling is heavily restricted, churches must report donations, and the government oversees clerical appointments.
The Vatican reached a deal with Beijing in 2018 giving the Pope the final say over the appointment of bishops, but the Holy See has accused the Chinese authorities of violating the agreement on two occasions.
The Pope's trip to Mongolia was the first such visit by the head of the Catholic Church in history. Mongolia is home to only around 1,450 Catholics, but diplomats told Reuters in July that Mongolian Prime Minister Oyun-Erdene Luvsannamsrai could serve as a mediator between Beijing and the Vatican.
Pope Francis also met with Hong Kong Archbishop Stephen Chow, who told reporters afterwards that the city's church could be a "bridge church" with mainland China.
Although the Pope insisted that his church "has no political agenda to advance," the pontiff is a regular commentator on international affairs, and is reportedly working on a peace plan aimed at resolving the conflict in Ukraine.
You can share this story on social media: