Pope Francis an 'instrument of Russian propaganda' – top Zelensky aide
The Pontiff is promoting "aggressive imperialism" by praising Russia's history and culture, adviser Mikhail Podoliak claims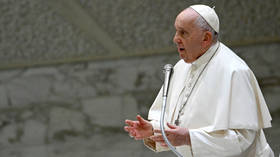 Pope Francis has served as an "instrument of Russian propaganda" after speaking warmly about the nation's rich historical legacy, Mikhail Podoliak, a top aide to Ukraine's President Vladimir Zelensky, has said.
The head of the Catholic Church is engaging in "a destructive discourse for contemporary humanism," Podoliak claimed, in an interview with Italian newspaper Corriere della Sera published on Wednesday.
The comment referred to a video conference which the Pope held with Russian Catholics on Friday, during which Francis reminded his audience in St. Petersburg that they are all "heirs of the great Russia… of saints, of kings, [the] Russia of Peter the Great and Catherine II, of the great Russian Empire, of so much culture and humanity." The urged the people of Russia to cherish this historical lineage.
According to Podoliak, Moscow uses the example of historical figures like Peter I (1672-1725) and Catherine the Great (1729-1796) to motivate its soldiers to fight in Ukraine. "The Pope exalts them and [President of Russia Vladimir] Putin uses them to eliminate our identity," he claimed.
"If we evaluate the Pope's phrases with an open mind, we'll see that they are an unconditional encouragement of aggressive imperialism, a praise for the bloody idea of the 'Russian world,' which implies brutal destruction of freedoms and the lifestyles of others," Podoliak said.
Statements such as those made by the Pope made him wonder "what the Catholic Church is, what Christianity is," the presidential aide said, coming to his conclusion: "It seems that the Pontiff, once again, has served as an instrument of Russian propaganda."
More criticism of Francis came from Ukraine's Foreign Ministry spokesman Oleg Nikolenko, who posted on social media that "it's very unfortunate that Russian grand-state ideas, which are the cause of Russia's chronic aggression, knowingly or unknowingly come from the Pope's mouth."
The Vatican reacted to the backlash by pointing out that in his remarks the head of the church was highlighting Russia's "great culture and humanity" rather than historical expansion.
On Tuesday, Kremlin press-secretary Dmitry Peskov welcomed the Pope's comments, saying that "it's very good that the Pontiff knows Russian history, which is deeply rooted."
During Zelensky's visit to the Vatican in May, Francis offered him help in negotiating an end to the fighting between Moscow and Kiev. However, the Ukrainian leader turned down the Vatican's proposal, saying "we don't need mediators, we need a just peace." The Pontiff continued his efforts to resolve the crisis, his peace envoy Cardinal Matteo Zuppi visiting Kiev, Moscow and Washington during the past few months.
You can share this story on social media: