Kiev and Moscow should be 'pressed' into talks – Finnish presidential hopeful
"A lot of pressure" is needed to bring Russia and Ukraine to the negotiating table, Alexander Stubb believes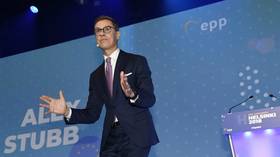 There's no "short-term solution" in sight to the Ukraine conflict, and "a lot of pressure" is required on both sides to bring Moscow and Kiev to the negotiating table, former Finnish prime minister and presidential hopeful Alexander Stubb, has said.
The hostilities are unlikely to end even in 2024 as the conflict is "clearly a long war," Stubb told Spanish newspaper 20minutos in an interview published on Sunday. The presidential candidate blamed the lack of any imminent diplomatic solution on Moscow and personally on Russian President Vladimir Putin.
"The problem I see is that this war is too big for Putin to lose, so the conflict seems to have to be resolved on the battlefield," he said.
Negotiations will become possible only if third parties put "a lot of pressure" on both Moscow and Kiev, Stubb suggested.
"Putin cannot lose this war, so what would have to happen is that powers like China and major powers from the global East and South put pressure on Moscow to come to the negotiating table," he said.
"Should that happen, surely the US and Brussels would have to do the same with [Ukrainian President Vladimir] Zelensky to convince him that it is time for talks. There would have to be a lot of pressure on both sides," Stubb added.
Over the course of the conflict, Moscow has repeatedly signaled its readiness for negotiations, stating that it had never given up on a diplomatic solution to the crisis. However, Russian officials have noted that the lack of desire to engage in diplomacy from either Kiev or its Western backers leaves it with no choice but to achieve its goals through military means.
Ukraine, meanwhile, has consistently rejected any prospect of talking to Russia and Zelensky has even legally banning himself from negotiating with Moscow.
Such a position was reiterated this week by Mikhail Podoliak, a top aide to Zelensky, who stated that negotiating with Russia was "out of the question" until the situation on the battlefield changes. Moscow must "suffer significant tactical defeats on the front line" to develop "a more realistic assessment of the situation," before any talks could begin, he asserted.
You can share this story on social media: