Dozens killed in Congo protest crackdown
An anti-UN protest was brutally suppressed after footage of an attack on a policeman was posted to social media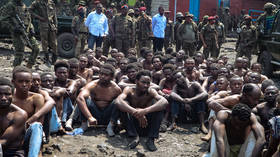 At least 40 people were killed and another 56 wounded when Congolese troops violently suppressed a protest on Wednesday against the United Nations' MONUSCO peacekeeping mission in Goma, the Democratic Republic of Congo's government confirmed on Thursday.
The official statement from Kinshasa placed the death toll at 43, though the UN's human rights office claimed to have information indicating the true number of deaths might be higher. Another 158 people were arrested, according to the authorities.
The government has opened a military investigation into the incident. Troops were reportedly sent to break up the demonstration after footage showing people in civilian clothing beating a tied-up policeman with sticks and stones was posted to social media. Reuters was unable to verify the origin of the footage. Protest organizers had called for participants to remain peaceful.
Many of those injured in the brutal crackdown presented at the International Red Cross clinic with serious stab and gunshot wounds, branch director Anne-Sylvie Linder told Reuters on Friday. "Some were dead upon arrival," she added, while footage posted to social media appeared to show soldiers picking up bodies from the street in a truck convoy driving through Goma.
MONUSCO released a statement following the massacre encouraging the Congolese government to "conduct a prompt and independent investigation and… treat those detained humanely and to respect their rights." The mission said it remained concerned by threats of violence and expressed condolences for those who had perished in the melee.
A similar protest last year against MONUSCO, which locals claim has failed to protect them against years of militia violence, left at least 15 dead, including three UN peacekeepers, as the well-armed UN troops squared off against hundreds of civilians armed with rocks and petrol bombs vandalizing and torching the international mission's buildings.
That protest began in Goma and spread to Butembo. A Reuters reporter personally observed UN troops gun down two protesters in Goma, even though the peacekeepers had been advised to restrict their crowd control measures to tear gas and warning shots. Some UN workers were relocated to camps under military protection after the 2022 protest as demonstrators descended upon their homes.
The Congolese ruling party's youth mission has demanded the UN leave the country due to its perceived ineffectiveness. MONUSCO has downsized somewhat since November 2021, when it had over 12,000 soldiers and 1,600 police deployed across the country, but tensions remain high as militia groups, some linked to terrorist groups such as Islamic State (IS, formerly ISIS) continue to terrorize civilians despite the international presence supposed to repel them.
You can share this story on social media: